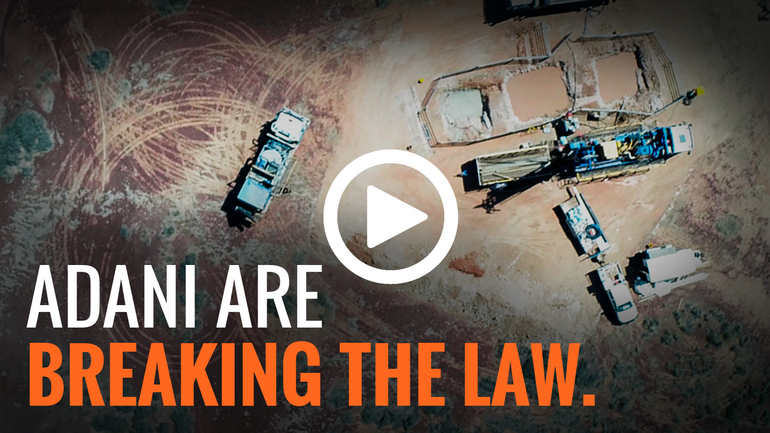 They thought nobody was watching. They were wrong.
Adani has started

illegally

drilling into aquifers connected to the Great Artesian Basin.
And not only have they started work, they have lied to the Queensland Government about it
1
.
An explosive investigation has revealed Adani has broken environmental laws by secretly drilling into aquifers, without critical approvals, and then misleading the Queensland Government to cover up their crimes
2
.
Their illegal activity has put Queensland's water at risk while the State struggles through gruelling drought
3
.
They have broken the law. They have to be held criminally responsible. And it falls to the Queensland Government to prosecute them.
Click here to see the explosive footage and call on Premier Palaszczuk to prosecute Adani.
We have to stop this.
Over half of Queensland is in the midst of the worst drought in half a century, and unseasonal bushfires raged across the country throughout winter
4
. The catastrophic impacts of global warming are right at our doorstep — and our communities are struggling to cope with a natural environment pushed to new extremes.
The Great Artesian Basin is the lifeblood of inland Australia. Adani's illegal drilling risks Queensland's scarce water resources at a time when our communities need them more than ever.
We have to stop Adani now, before it's too late. Because once the damage is done, there's no repairing it.
Sign the petition to prosecute Adani immediately.
Adani has once again behaved as if they're above the law in Australia — and it's not the first time. Last year, Adani spilled coal-laden pollution into water near the Great Barrier Reef. It took a year-and-a-half long community campaign, but last week the Queensland Government finally announced it will prosecute Adani for that spill
5
.
Now, we need them to prosecute Adani for their new illegal drilling.
Adani is a formidable foe, but we've proved that when we all stand together, we have the power to hold mining giants to account.
Sign the petition now to demand Adani be prosecuted.
In determination,
Sam R, Jairaj, Adam, Tessa and Mim for the GetUp team.
PS – The most important thing we can do now is to
push the Queensland Government to prosecute Adani.
But we're busy investigating the ways the Federal Government can intervene too. Stay tuned.
References


[1] Adani groundwater bores investigated amid claims they were sunk without approval,

ABC, 12 September 2018


[2] Adani start work on the Carmichael Coal Mine breaching its Environmental Authority,

Coast and Country, 12 September 2018


[3] Rain set to bring relief to farmers in New South Wales and Queensland, 9News, 22 August 2018.


[4] Rain set to bring relief to farmers in New South Wales and Queensland, 9News, 22 August 2018.


[5] Minister Enoch, appearing before the Estimates Committee for Innovation, Tourism Development and Environment, 1 August 2018.