"Never get between an ABC presenter and a bucket of taxpayers' cash."
That's what
Andrew Bolt
spat at ABC legends Paul Barry, Adam Spencer and Ellen Fanning for backing a fully-funded National Broadcaster.
1
Bolt was joining the IPA and others in the Murdoch Press seeking to repudiate a rigorous report, funded by GetUp members, which shows how much our ABC has lost.
2
It's clear they have an agenda in the lead up to the upcoming Federal Budget. And Bolt summarised it in two words:
"Cut it."
3
But our ABC report also highlighted the deeply felt support and need for our National Broadcaster.
And before the next Federal Budget, there's set to be a
hotly contested
by-election in Eden-Monaro, where the ABC has been critical throughout the bushfires and coronavirus crises.
By working in Eden-Monaro and other strategic electorates, together we can launch a

positive

campaign about the ABC's vital role in our national life.
That includes a big advertising campaign, elevating the voices of people who relied on the ABC for bushfire broadcasts, and pushing for
additional services
that'll scream out for more ABC funding.
Can you chip in $12 to support the campaign for

more

ABC funding ahead of the Federal Budget and the hotly contested Eden-Monaro by-election?
In just a few days, our new ABC report has generated more than 250 media mentions, attracted support from ABC presenters and even a response from Communication Minister Fletcher who actually tried to
deny
the ABC is being systematically defunded.
5
We're definitely making waves.
But one of the key findings of our research is that while people love and rely on the ABC, they don't realise how much has been cut by this Government. And what that has cost in ABC jobs, programmes, and resilience.
4
When we make that clear, many of them – from young parents to retirees – are ready to take action to defend the ABC.
That's the next frontier for our ABC campaign – educate and energise thousands of people in Eden-Monaro and beyond to
demand
more for our ABC, so it can deliver more for all of us.
And with Bolt and the IPA already ramping up the attacks, we have to start

now.
Click here to chip in $12 to energise people from all stripes to support a bigger, better ABC.
Our exclusive research has shown us who cares about the ABC, why they care, and what will get them out of their seats to defend it.
Now we need to fund the campaign to light the spark:
A deep dive in Eden-Monaro.

Specific polling and on-the-ground research in Eden-Monaro showing local support for

increased

funding and highlighting the local reasons and personal stories of why the ABC matters for their local communities
Advertising and community building.

An advertising and action-taking campaign for Eden-Monaro and other strategic electorates to educate and energise communities to stand up for their ABC
Sparking exciting new content.

Supporting the development of new content ideas for the ABC based on what our research shows people want to see from our Auntie (for example additional education content for our kids and increased emergency services)
The Federal Budget is a few short months away, the Eden-Monaro by-election could be set at any time, and Bolt and the IPA are lining up their 'cuts' agenda.
If we don't all stand up now for our ABC, who will?
Can you be part of it? Click here to launch a positive campaign to get more funding for our ABC.
Thank for standing up for our ABC,
Alix, Sarah, Tosca and Bea – for the whole GetUp team
PS -
In a world turned upside down by coronavirus, the impossible happens every day.
Newstart doubled overnight and millions are being supported to stay in their jobs, because it was needed. And as a nation, we've never needed our ABC more.
That's why more funding for the ABC is a fight we can win, if we all chip in together.
PPS - This won't be the first time GetUp members have succeeded in putting the ABC front and centre of a by-election. In 2018 our movement mobilised in the Mayo by-election. The campaign was so successful it saw Liberal Candidate Georgina Downer, a former IPA staffer, professing her support for our National Broadcaster.
Check it out!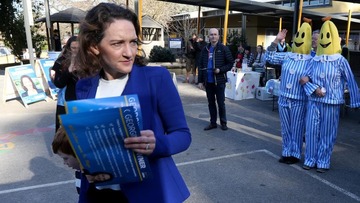 GetUp members having fun with Liberal candidate and ex IPA staffer Georgina Downer at the 2018 Mayo by-election.
References:
[1] ABC presenters cry for money they didn't actually lose, Andrew Bolt, Herald Sun, May 7 2020
[2] Report on ABC funding cuts 'surprising' and 'deeply regrettable' says Communications Minister Paul Fletcher, The Daily Telegraph, May 6 2020
[3] ABC presenters cry for money they didn't actually lose, Andrew Bolt, Herald Sun, May 7 2020
[4] It's Our ABC, A report for GetUp by Per Capita, May 2020
[5] GetUp media monitoring services, 7 May 2020