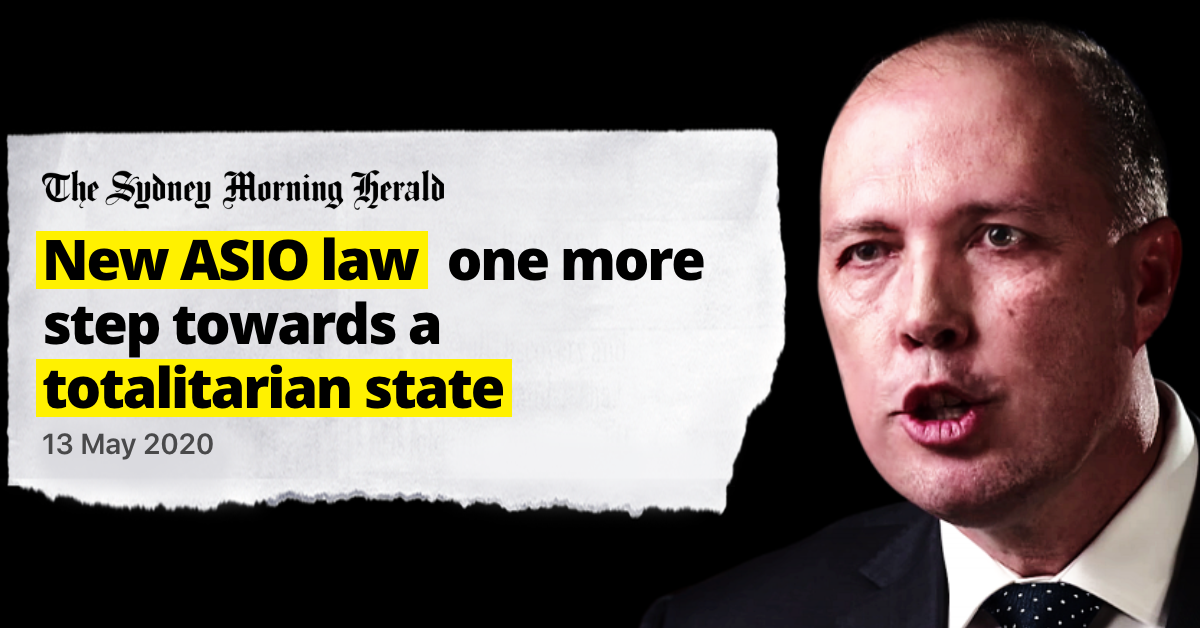 These changes could take away your right to a lawyer.
Under the cover of a global pandemic – Home Affairs Minister Peter Dutton is trying to ram through wide ranging new powers that would
let ASIO detain and question kids as young as 14, track your movements without oversight and prevent you from having a lawyer present if they deem them 'disruptive'.
1
It could see Dutton and his department investigating journalists and activists on allegations of 'espionage' just for doing their jobs.
Already lawyers, experts and politicians from across the spectrum have slammed Dutton's proposed changes, calling them 'dangerous' and 'highly intrusive'.2
We can't let these amendments be waved through Parliament, and the only way that happens is if we dial up the public pressure fast.
Can you add your name to the petition calling on politicians from across the spectrum to block Dutton's dangerous amendments?
Last year, the country watched on in horror as the ABC was raided and the home of a News Corp journalist was searched for allegedly breaching 'national security' after she published a piece about plans to surveil the community.
3,4
In 2018, the Government tried (and partly succeeded) in passing draconian laws designed to suffocate the work of civil society organisations like GetUp, intimidate whistleblowers into silence and limit the scrutiny on government.
5
Now, we're facing down the barrel of proposed changes to the

Australian Security and Intelligence Act

that could further erode our rights – and give Dutton and his mega department even more power.
It's the latest in a terrifying trend from a government determined to chip away at our democracy –
and we can't let it go unchallenged.
Can you add your name to the petition and call on politicians to block these dangerous changes from Dutton?
As talk of coronavirus recovery begins, GetUp members and our movement will be as important as ever.
Together, we need to hold politicians accountable and make sure that sweeping changes like these aren't allowed to pass without scrutiny.
Together, we need to defend our democracy and fight for a fair, progressive future for all.
In determination,
Renaire, Naz and Anisha for the GetUp team
References:
[1] Asio could question children and more easily use more tracking devices under new powers,
The Guardian
, 13 May 2020.
[2] Legal bodies concerned by Peter Dutton bill allowing Australian spies to question 14-year-olds,
SBS
, 13 May 2020.
[3] AFP raid on ABC reveals investigative journalism being put in same category as criminality,
ABC
, 15 July 2019.
[4] Federal police raid home of News Corp journalist Annika Smethurst,
The Guardian
, 4 June 2019.
[5] Sweeping foreign interference and spying laws pass Senate,
The Guardian
, 29 June 2018.