It's been a

huge

week for the ABC.
The National Party has come out in support of our national broadcaster
1
while the ALP has firmly committed to reversing the cuts if they form government.
2
These monumental political shifts haven't come out of thin air.
In May 7,786 incredible GetUp members chipped in to put the ABC on the agenda in the Eden-Monaro by-election. We set out to make sure candidates wouldn't be able to shy away from community pressure, knowing we would be heard in the party rooms of Canberra.
Check out all of the amazing work you made possible!

Our polling - which found support for the ABC runs deep in Eden-Monaro - made headlines nationally and regionally.
3,4
Focus groups were held. Our members texted into local radio and sent a mini report, written by GetUp, on the role of the ABC to standing candidates (read and download the full report here
read and download the full report here
!).
GetUp members proudly displayed ABC yard signs from Bermagui to Mogareeka. And thousands of ABC stickers blanketed the electorate,
making our message impossible to ignore.
Colin from Bungendore put his yard sign up in support of the ABC after the hills behind his alpaca pen burned for almost four weeks. He said:
"The ABC's emergency broadcasts let us know when we had to evacuate – twice. Their news updates meant I knew when I had to race home from work in Canberra to protect my home. And, once the flames subsided, they ran regular programs on how to look after your pets, protect livestock, and take care of native wildlife. The ABC was there for us in a crisis. And they were there in the aftermath, too."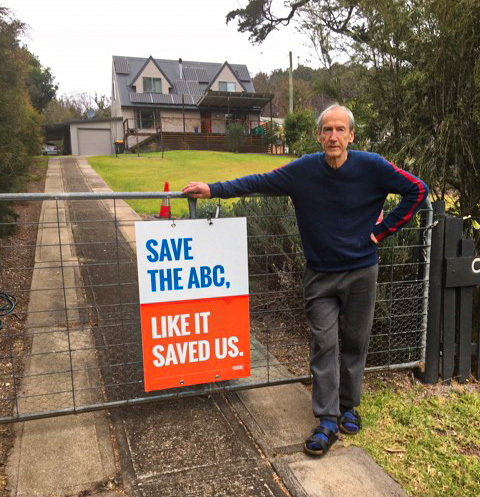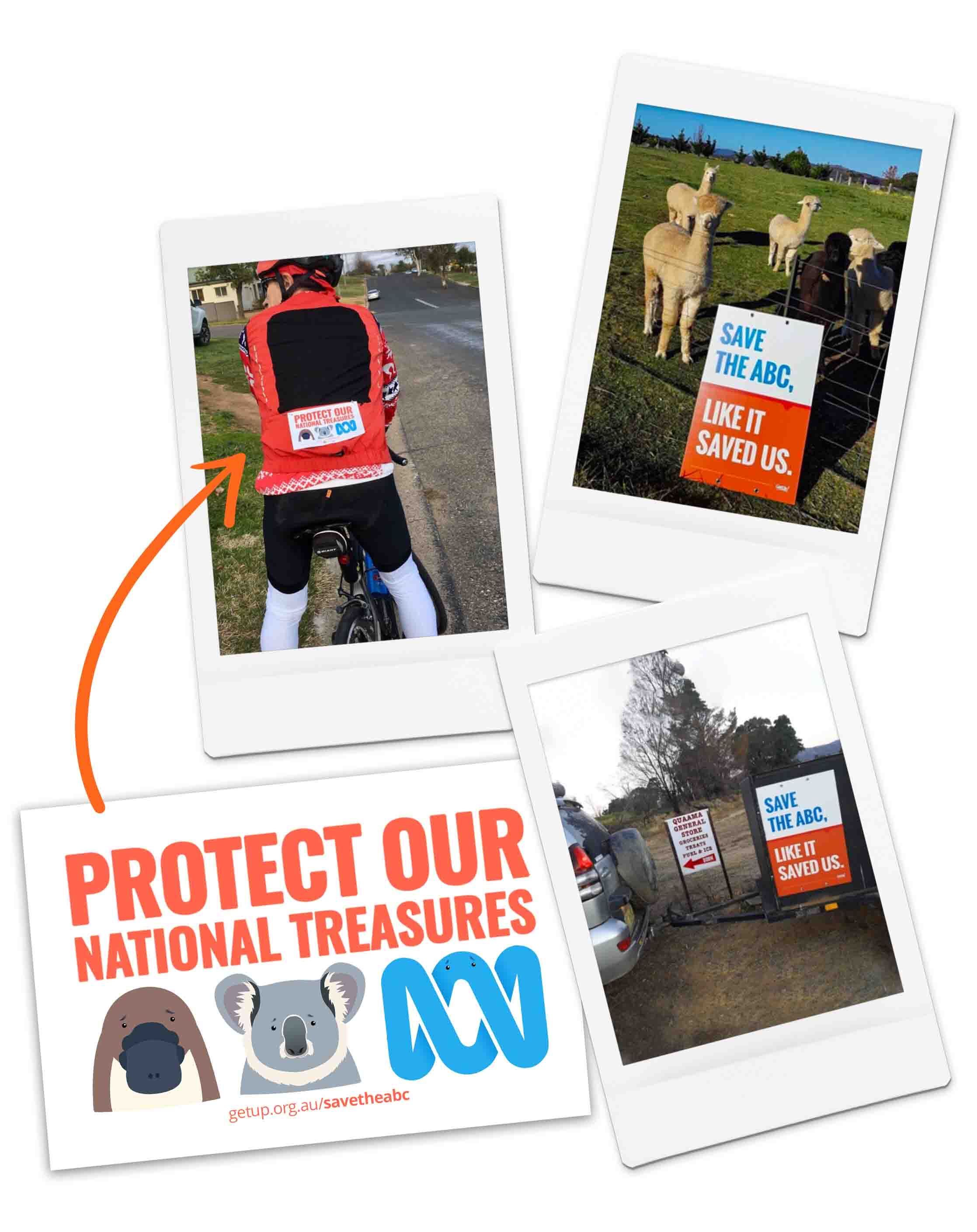 We didn't stop there. Our local petition was signed by 1,487 Eden-Monaro constituents, demanding candidates promise to stand up for the ABC if elected.
And we delivered it to them in a very public way in the local paper.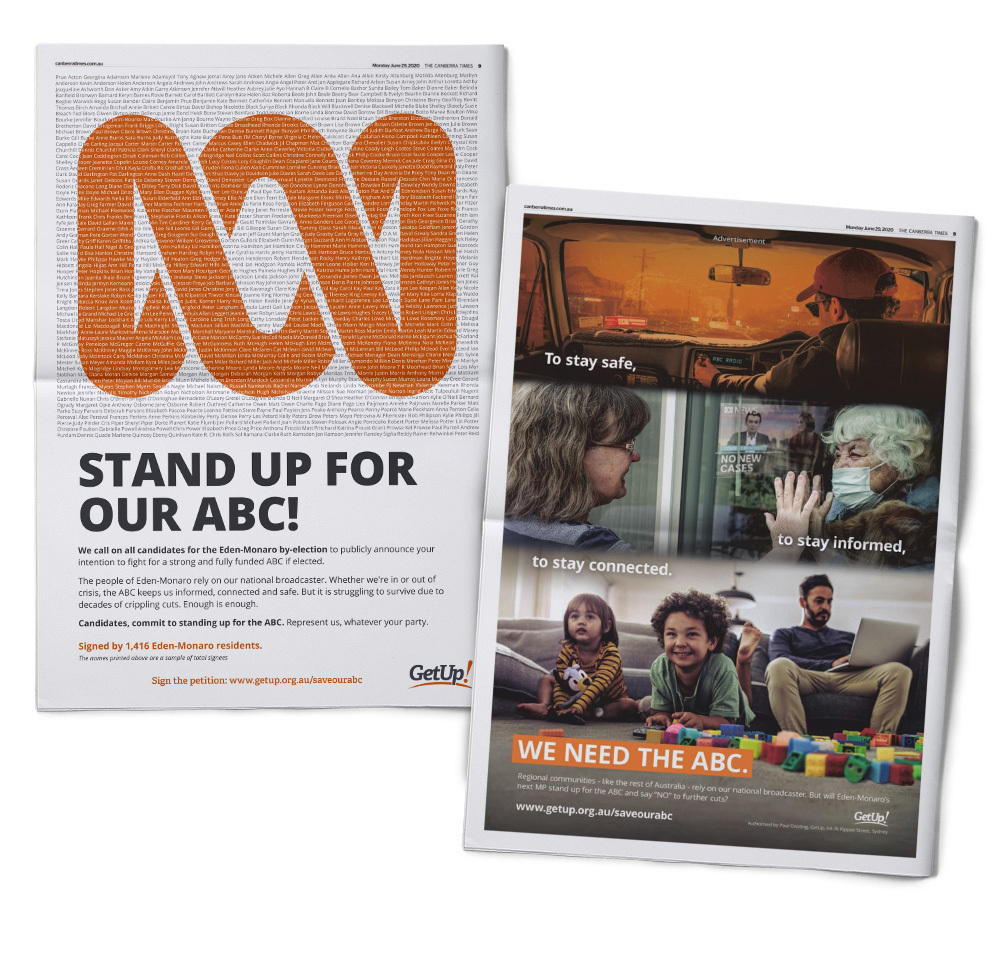 Full page advertisements in the Merimbula News Weekly and The Canberra Times.
Just one day after we printed a beautiful ad in
The Canberra Times
depicting the value of the ABC in times of crisis and for our children, Anthony Albanese pledged his
first national spending commitment
to restore ABC funding!
5
Moreover, factions of the Nationals have started to stand up against the Liberal Party's cuts, saying enough is enough.
6,7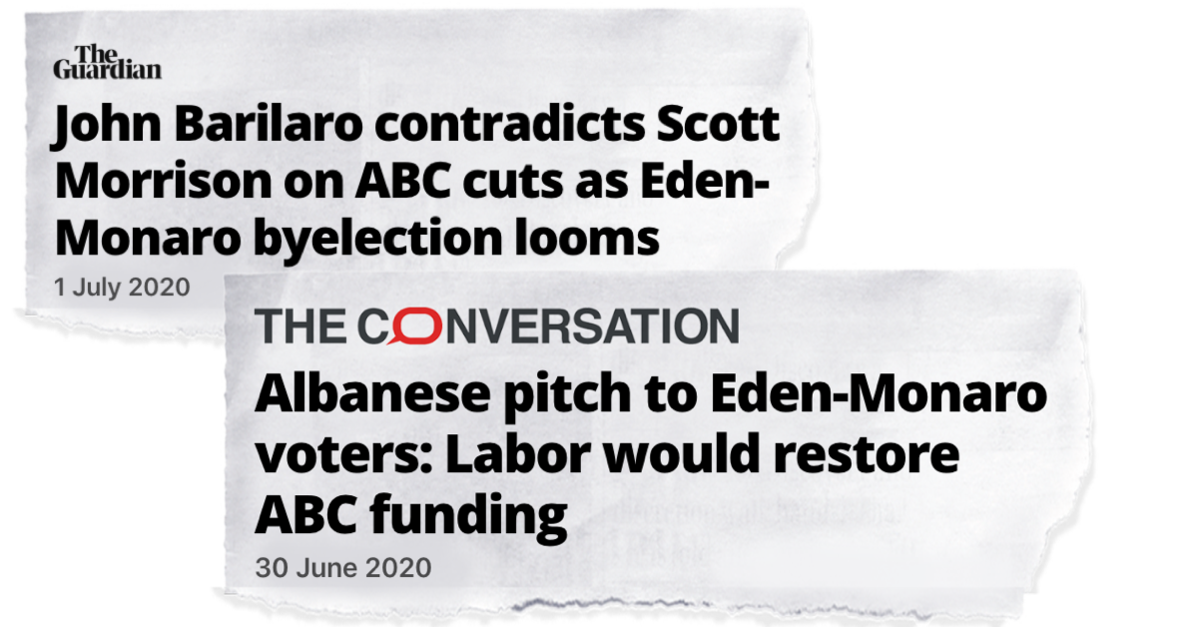 But the fight is not over - not even close.
The Liberal Party are digging in their heels, incredulously declaring "There are no cuts" .
8,9
Meanwhile those in the right-wing media are continuing their war against public broadcasting, with one article in
The Australian
calling the jobs lost by over 250 ABC staff due to Government cuts "trivial" and to "cue the violins".
10
It is a hard time for the ABC, as it struggles to continue serving our communities while battling a hostile government.
But with your ongoing support we will hold those who have pledged to defend our ABC to account. And we will work to ensure a restoration of funding and support to our national broadcaster.
Onwards!
Alix, Sarah, Tosca and Bea on behalf of the GetUp Team
References:
[1] 'John Barilaro contradicts Scott Morrison on ABC cuts as Eden-Monaro byelection looms',
The Guardian
, 1 July 2020
[2] 'Labor pledges to reverse ABC funding cuts if elected',
SMH
, 30 June 2020
[3] 'ABC considered a critical emergency service by Eden-Monaro voters ahead of by-election, a GetUp poll shows',
The Canberra Times
, 30 June 2020
[4] 'South East escapes ABC job cuts, by-election candidates lament national loss',
Bega District News
, 26 June 2020
[5] 'Labor pledges to reverse ABC funding cuts if elected',
SMH
, 30 June 2020
[6] 'John Barilaro contradicts Scott Morrison on ABC cuts as Eden-Monaro byelection looms',
The Guardian
, 1 July 2020
[7] 'Barilaro urges Morrison government to reverse 'devastating and incomprehensible' ABC cuts',
SMH
, 28 June 2020
[8]''There are no cuts': Scott Morrison rejects criticism of ABC funding levels',
SMH
, 25 June 2020
[9] 'Communications Minister Paul Fletcher blames ABC management for job cuts',
The Canberra Times
, 1 July 2020
[10] 'Cue the violins: ABC needs to put its trivial troubles into perspective',
The Australian
, 29 June 2020