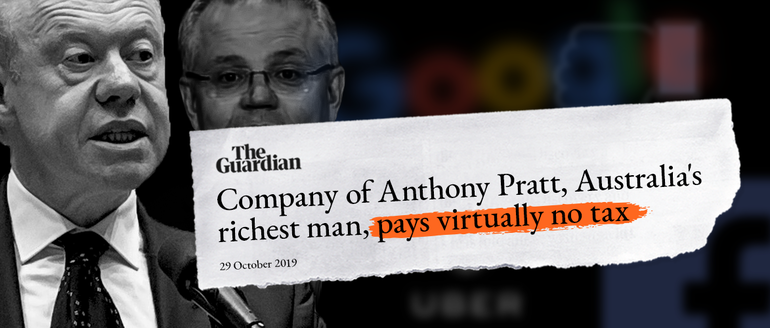 Australia's richest man, Anthony Pratt, avoided paying tax on almost $340 million of income.
1
Amazon Australia paid pennies on more than $1 billion in revenue.
2
Headline after headline shows that while the Government continues to cut funding from the ABC, and underspend on disability services –
the wealthiest 0.1% are hiding their true income from the tax office.
But fresh research, funded by hundreds of GetUp members, proves that things can be different.
In a first-ever analysis of the recent Multinational Anti-Avoidance Legislation, a team of independent researchers found an increase in compliance by some of the country's largest corporations. It's evidence that with sensible, bipartisan reforms –
we can win the fight against tax cheats
– and stop the dangerous accumulation of corporate wealth that banks and mining companies use to corrupt our democracy.
But research alone doesn't shift the political calculus – we need to show a groundswell of public sentiment.
If we can back in this report with tens of thousands of signatures for even stronger anti-avoidance measures, together we have time to put corporate tax cheating in the crosshairs for next year's federal budget.
✍️SIGN HERE: We have all the tools we need to end corporate tax cheating – what we need is the political courage.
Dodgy accounting, bogus corporate structures, and misleading "business purposes" allow the world's largest corporations to shrug off scrutiny and sidestep their obligations.
Our research shows how big US companies operating in Australia like Google, Facebook, and Uber have hidden profits in the millions and billions.
But together, our efforts have helped make corporations more transparent.
This latest research provides the strongest evidence yet of an increase in the tax payable by these corporations.
The best part? These laws had bipartisan support – in fact, it was the Turnbull Government that acted to crack down on corporate tax avoidance.
Even Coalition MPs know just how unpopular corporate tax avoidance is – and that means we have an opportunity for further reform.
The time to act is now.
With the federal budget just months away – we need an overwhelming public outcry that forces corporate tax cheating back onto the agenda for the Morrison government.
That means we need your voice.
Enough is enough – demand that the government takes urgent action to expand corporate transparency and pass stronger tax reform.
This latest research shows that when we stand together, and act strategically – we win.
GetUp members have a track record of shining a light into our murky tax system and generating insights to create real change. With bright ideas, and an overwhelming public outcry, our movement has forced the Government into real action on corporate tax avoidance before.
With your help, we'll do it again.
In determination,
Ed, Rafi, Tessa and Charlie – for the GetUp team
References:
[1] "Company of Anthony Pratt, Australia's richest man, pays virtually no tax",
The Guardian
, October 29, 2019
[2] "How to pay $20 million tax on more than $1 billion in revenue — ask Amazon Australia",
ABC
, November 21, 2019