Together, we just made history for GetUp!
The attempts over the last few weeks from the Murdoch Press to threaten the power of this movement and silence the voices of everyday Australians like you only did one thing — make us stronger.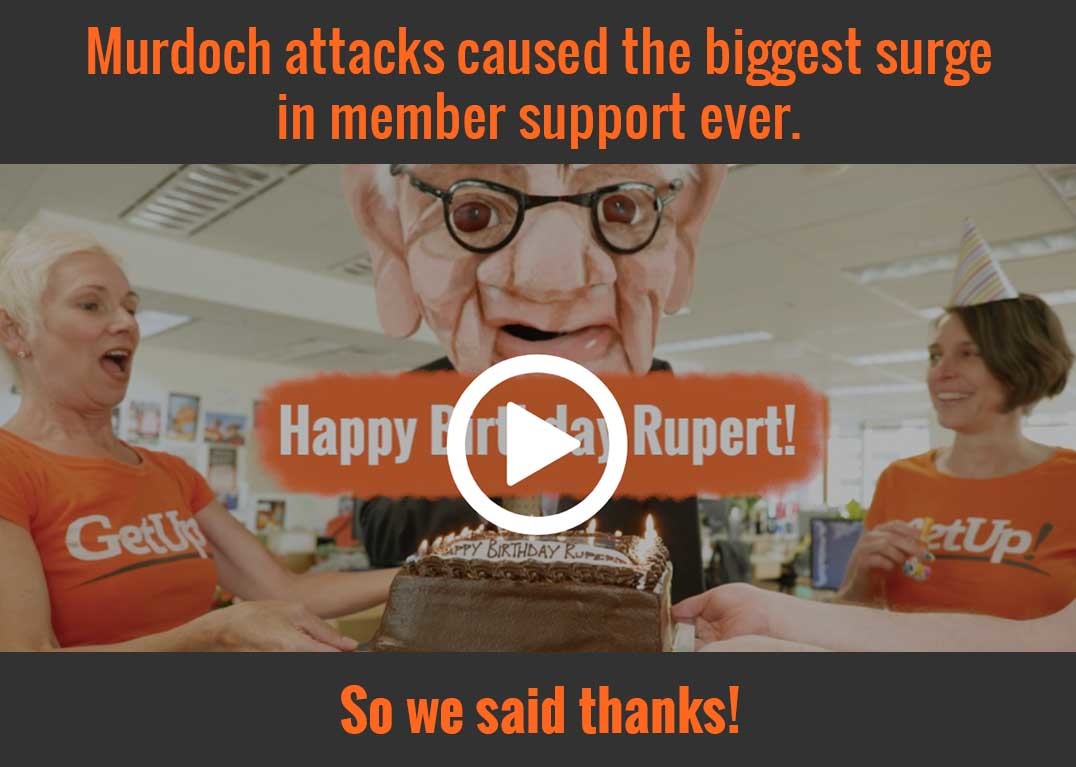 After days of misleading front-page reports in The Australian, including an editorial calling on people not to donate to GetUp1, we asked you to step up and respond by doing exactly what the Murdoch Press asked you not to do—power this movement by joining the GetUp Crew with a regular gift. And we were blown away by the response.
We set a goal of getting 500 new members to join our GetUp Crew – promising to deliver a big bouquet of orange flowers to Murdoch Press HQ if we hit it. Within hours, you crushed that goal. We raised it to 1,000 new GetUp Crew members and said we'd mark the moment with a full page newspaper ad calling out climate denial in the Murdoch Press.
An incredible 1,200 of you put your hand up and fought back with regular donations that will propel our work in the months and years to come — including fighting the ongoing climate denial and racist reporting from the Murdoch Press. Regular donations help us plan ahead and commit to long term strategies, every single one is incredibly valuable.
So to say thank you, this past Wednesday, on Murdoch's 89th birthday we delivered a huge bouquet of orange flowers and a birthday cake to the News Corp HQ to let them know how incredibly grateful we were for this new surge of support in response to their attempted intimidation.
And, as promised, we've booked upcoming ad space in a major newspaper to increase pressure on the Murdoch Press — calling on them to begin reporting with truth and integrity. We'll keep you updated on the details.
We've already done so much and together we'll keep going until we #CleanUpMurdoch.
In solidarity,
Alix, Justine, Sarah and Tosca for the GetUp team
P.S. It's not too late to become part of GetUp history! Join the GetUp Crew today with a small, weekly donation to support our work. Together, we'll continue to stand up to the Murdoch press and their climate denial agenda and show the Murdoch Press their bullying attacks only make us stronger.
References: [1] Every dollar you donate to GetUp is a waste of money,
The Australian
, 25 February 2020.