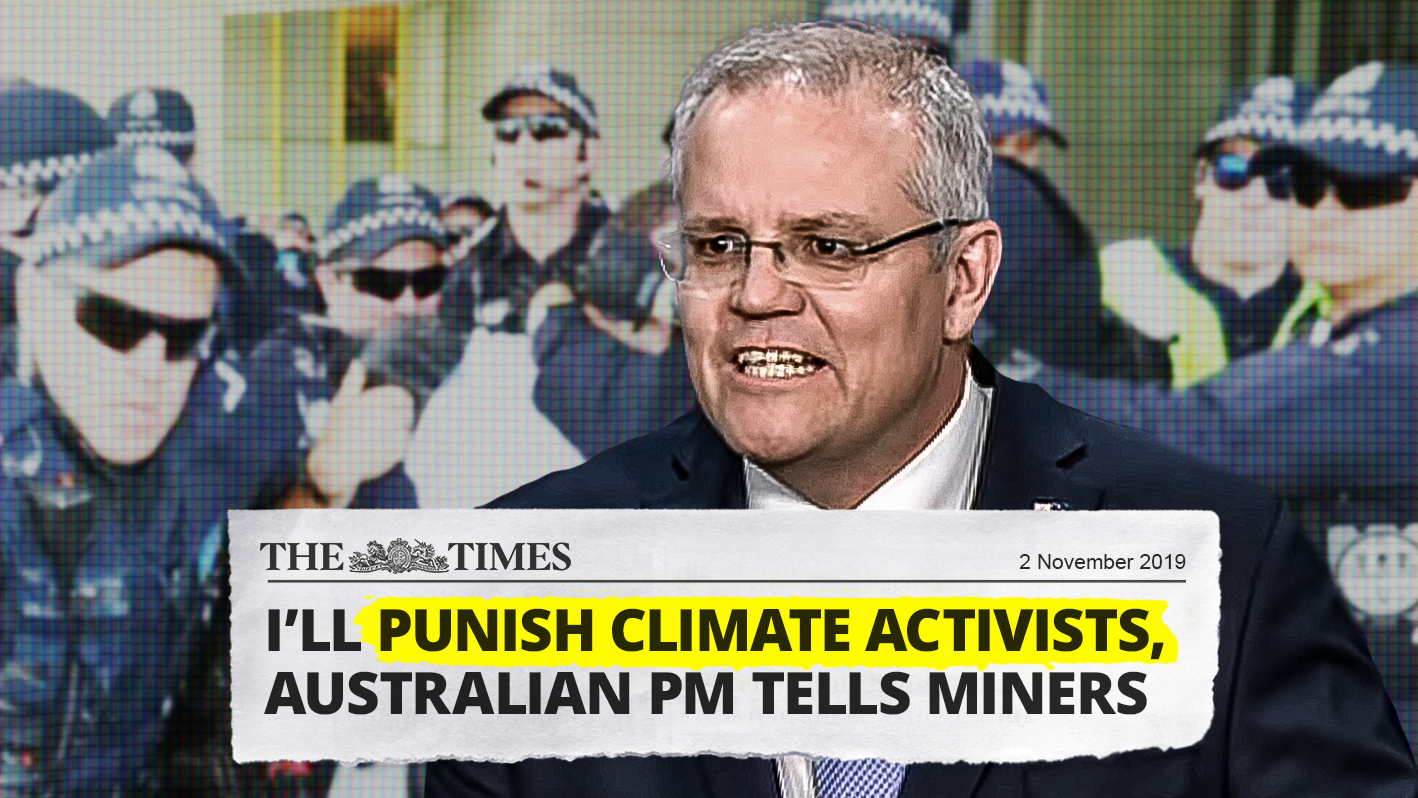 Scott Morrison just told a room full of mining lobbyists that he's begun work on legislation to outlaw climate activism – banning climate protests, boycotts and "disruptive" strikes.
1
It's the most alarming attack we've seen yet – threatening people's right to take action against climate-denying politicians, and corporate climate wreckers.
This dangerous expansion of authoritarian power will restrict farmers who are organising to protect their groundwater from fracking. It will limit Traditional Owners efforts to protect their land from gas companies. It could stop the next generation from taking action to save their future –
by putting an end to the climate strikes,

for good.
These laws must be defeated.
We need to challenge them in Parliament, in committee hearings, and in the High Court if we have to. It's going to take a mammoth effort from lawyers, barristers and policy experts, as well as a coordinated public campaign to protect the rights of climate activists in all their forms.
But even more than that – we need to put an end to Morrison's culture war.
And that means beginning the long-term work of working in regional communities, championing local solutions, and building a shared vision of the future we must fight for together.
Can you chip in $12 to a fighting fund to defeat Scott Morrison's authoritarian climate crackdown? Let's put an end to the climate culture war.
The right to protest is baked into the soul of this nation's political history.
It was Australian workers that organised to win the fight for an eight hour day. The path to LGBTIQ equality began with brave people staring down police violence on Oxford Street more than 40 years ago. Native title was only recognised because of a ten year struggle by a determined Meriam man named Mabo.
The DNA of the GetUp movement is found in this long, bold history of people power.
And the greatest calling of our generation is the one Morrison is determined to silence – the struggle for a livable planet.
Morrison is cracking down because he's genuinely afraid of our power, mine and yours, when we stand together.
But with Morrison actively cultivating support with the powerful mining lobby – it's going to take all of us to win.
This isn't Scott Morrison's democracy – it's yours. Chip in $12 to protect it.
Morrison wants to stoke a culture war that pits jobs against climate action – because the truth is,

he doesn't have a plan for either.
But we do. With your support, here's what we'll do:
Defeat authoritarian attempts to silence dissent and protest:

We need to protect the rights of farmers, workers, first nations communities, and students to take action. This is a fight that'll start in the halls of parliament, but could end in the high court – and we need to be prepared to do whatever is necessary to protect the rights of GetUp members and the broader climate movement.
Build power and relationships with regional communities:

We need to end the culture war that Morrison wants, by listening and building genuine connections with communities that have been neglected by both sides of politics for too long.
Create a bold new climate strategy, modelled on a Green New Deal:

We need to consult with workers, First Nations leaders, and frontline communities and develop a climate strategy that answers their concerns. We need to work with leading researchers to develop solutions that solve the interconnected crises we face: insecure work, inadequate pay, industries in transition, a lack of housing and public infrastructure and climate change.
This is an ambitious agenda against a powerful opposition.
But in the face of a prime minister fashioning himself after Trump, determined to take us backwards, this is the cause we must commit ourselves to:
to stand together, and fight for our future.
Chip in $12 to send a message to Morrison: we're not going silent, we're growing stronger.
This is a now-or-never moment, calling each of us to action.
Please chip in, if you can.
In determination,
Paul Oosting
National Director, GetUp
PS. Morrison's attacking our movement, not because we've done anything wrong – but because we've done so much right. Fighting off these authoritarian attacks could well be a full-time job for GetUp staff, but instead we are busier than ever, working on a new approach to climate campaigning to overcome Morrison's culture war. We simply don't have another option.
What we do next will determine the livability of our country, and our planet.
Please chip in $12, if you can.
References:
[1] Scott Morrison accused of attacking democracy over vow to outlaw environmental boycott campaigns, The Telegraph, 3 November 2019.