Millions of us rely on the ABC to keep us and our loved ones safe in times of disaster.
Now we learn the ABC's emergency broadcast budget is

already

running dry, just at the beginning of a torrid bushfire season.
1
It's a terrible reminder of the damage done by the Morrison Government's cuts to our ABC, and a frightening hallmark of the greater frequency and ferocity of climate-fueled disasters.
We need a well-funded ABC to keep us safe when disaster strikes. And we need a fearless ABC to report the truth about the role of climate change in more frequent extreme weather events — especially when certain shock jocks, vested interests and politicians irresponsibly deny what is now staring us all in the face.
To defend and revitalise our ABC we must mobilise in electorates that are both passionate about our ABC and where the Government is increasingly losing support with local leaders and communities.
That begins with a campaign of local polling and on-the-ground research to find out why people love our ABC.
Then together we help broadcast their voices to their local MP and even nationally with stunts, mobilisations and an impactful advertising program.
Can you chip in $12 to show the Morrison Government why people need our ABC now, more than ever?
Last week on Radio National, the ABC's Director of Regional and Local Radio made a shocking revelation about the double impact of budget cuts and longer national disaster seasons:
"We used to have [to plan for] 6 months of emergency broadcasting, we now have 12 months ... Our budget is very tight. It has been tightened tremendously over the past few years and we are facing more budgetary pressure."
2
Over an eight year period, the ABC is set to lose $783 million from Coalition cuts.
3
I expect the ABC will find a way to keep running emergency broadcasting services, but at what cost to other essential news and programming? Already the current Managing Director confirmed more job losses as budget cuts continue to bite: "I don't think we'll be able to close that gap without losing staff."
4
Together, we need to ramp up the pressure on the Government to restore funding to our ABC. Can you chip in $12 now?
How can we give people a voice? By finding out what they love about our ABC and shouting it from the rooftops.
Whether it's the talk of the day on Radio National or the annual Hottest 100. The Walkley-winning investigations that uncover national scandals. The children's programming from Bluey to Playschool. Or the news and emergency broadcast system that helps keep our communities safe in times of crisis.
The ABC touches all our lives.
Right now GetUp is analysing a dozen electorates, so we can put our focus where the Government is under pressure and love for the ABC runs deep. And together we can fund an outburst of tactics which lift up a diversity of voices across inner-city, suburban and regional areas:
commissioning polling and research into public support for the ABC,
putting the ABC back on the national agenda with hard-hitting creative content plastered everywhere and a sophisticated digital program,
creating media interventions with clever ABC-themed stunts,
training ABC lovers to talk to people in their communities about the ABC,
producing eye-catching campaign merchandise displayed in every corner of the country.
But it's a tall and expensive order when we want to run with it in as many places as possible.
Can you chip in $12 to find the communities that love the ABC and lift up their voices nationwide?
Thanks for standing by our ABC,
Quentin Dempster, AM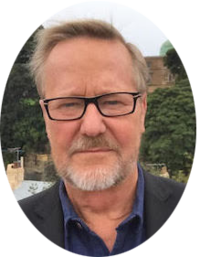 PS - The story of Jacqueline and her parents is one of many from last week's bushfires:
"Last Tuesday was crazy here. My elderly mum was relying on ABC Radio as she had no smartphone, no internet, and no power. Thank goodness for the ABC!"
References:
[1] 'ABC to drop live radio coverage of Tokyo 2020 Olympics', ABC Radio National, 12 November 2019
[2] ibid
[3] 'Crisis talks over ABC Olympics coverage', 7 News, 13 November 2019
[4] ''There will be job losses': ABC managing director confirms staff to go following budget freeze'', ABC News, 23 October 2019.