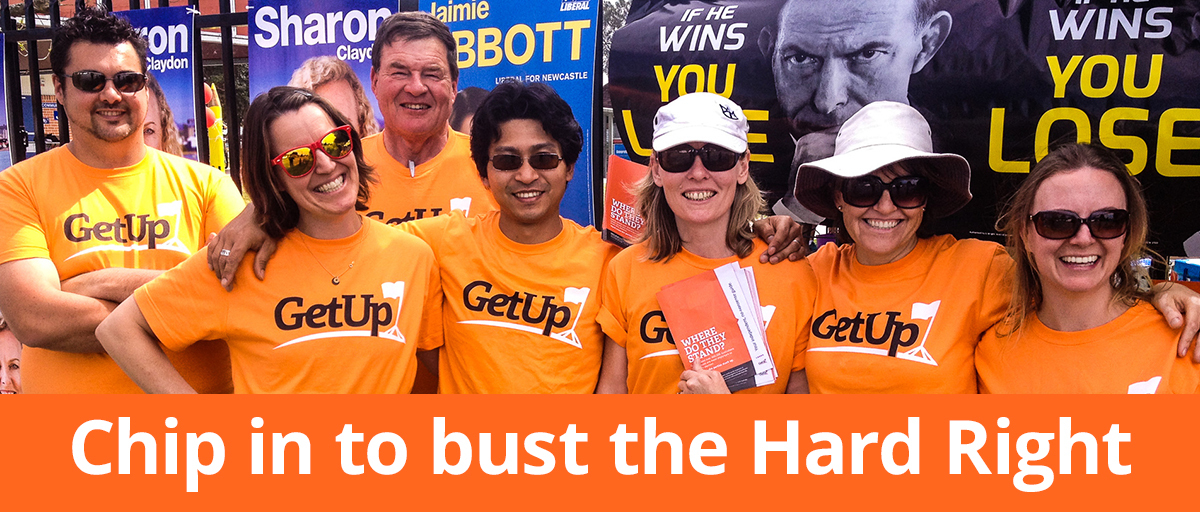 It's amazing!
Tens of thousands of GetUp members voted for which Hard Right wreckers they want to take on this election.
The biggest complaint?
"Why can I only vote for 3?"
Here's the problem: taking on members of the Hard Right, who have the backing of massive party machinery, takes massive resources.
In just two weeks time, we have to sit down and figure out how many electorates we can make a difference in.
And if we don't meet our election fundraising target by then, we're going to have to make some painful choices.
That means Hard Right politicians who have championed Adani, trashed renewables, left refugees in limbo, viciously attacked people doing it tough, and defunded our ABC will get let off the hook.
And they'll be there wrecking things for another three years in our next Parliament.
We have an ambitious budget target to achieve and we have to make commitments now if we're going to be in these fights to win these fights.
Chip in $12 so we don't let any Hard Right politicians off the hook for their destruction of our climate and wrecking of our politics.
Here are some of the rough costs of taking on just one Hard Right wrecker:
$200,000

in designing, filming and buying spots for our hard-hitting, innovative advertising.


$25,000

in raw phone call and text message costs, so GetUp volunteers can have hundreds of thousands of persuasive conversations with swinging voters.


$50,000

for a strong, Election Day ground game, with a sea of Orange t-shirts at all key election booths.
In order to have a winning chance, we have to commit to these electorates now.
And in order to commit, we need a serious chunk of the funding in place in two weeks time.
Will you chip in $12 to make sure we can take on as many Hard Right politicians as possible this election?
Hard Right wreckers like Peter Dutton and Tony Abbott have championed Adani and trashed renewables and our ABC. They've attacked students, seniors and jobseekers with cuts to essential services and left children in torment on Nauru.
They even took down their own prime minister to prevent

the most basic

political action on climate change.
We have a once-in-a-generation opportunity to sweep away their destructive influence and change what's possible in our politics — opening the door to more cooperation and elevating political debate.
Australia
can
become a world leader in renewable energy. We
can
close Manus and Nauru and ensure all refugees find safety. We
can
make the ABC bigger and better than ever before. We
can
stop tormenting people locked out of work and build an economy that works for all of us.
If, and only if, we sweep away the Hard Right wreckers for good.
Chip in $12 to build the world we want to see by sweeping away the Hard Right wreckers.
Thanks for changing what's possible,
Paul, for the GetUp Team