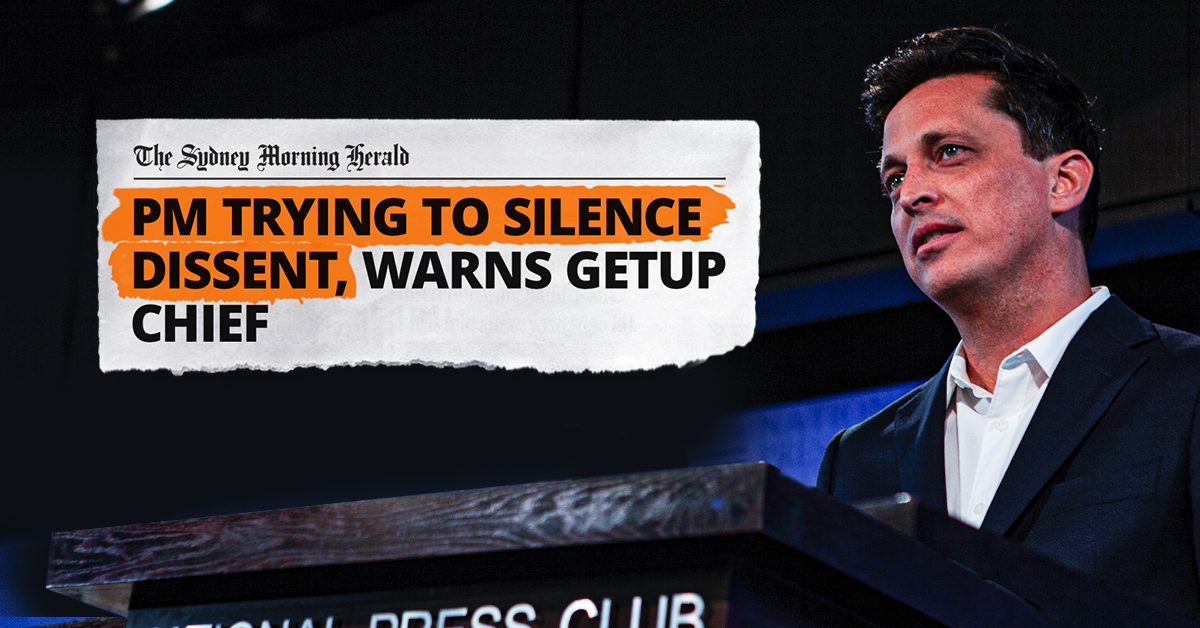 I just had the honour of representing you, and a million more Australians, in an address at one of the most respected forums in Canberra: The National Press Club.
Right now, the Government is stifling the right to protest, armed police are raiding journalists, and whistleblowers are facing lengthy prison sentences – getting a message out there
at all
is challenging these days.
And yet – our movement is centre stage.
We corrected the record. We proved we are bigger and more powerful than ever. We presented a vision for a kinder, braver, and stronger society.
The Morrison Government has made it clear its attacks aren't stopping. Today, we put it on record:
we're not stopping either.
The chance to speak on your behalf at the Press Club was huge. But to keep up the momentum, we need your support.
Can you make a regular contribution to support the fight

against

authoritarianism and for a

better

Australia?
Today has been absolutely
wild.
Canberra's pollen is in full attack mode at the moment, and my antihistamines almost knocked me clean out this morning. Journos managed to find my personal number and
wouldn't stop calling.
I'm still very much out of my comfort zone when speaking to a room full of politicians and journalists!
It was daunting, but it was worth it. Because we have important work to do.
As I said to the Press Club – our mission is to tear down the barriers that stand between ordinary people and politics. To give every single one of us – no matter our age, our postcode, our ability, or the colour of our skin – a say in the future of the country we call home.
Can you support that vision by making a regular contribution – as part of the GetUp Crew?
The journos didn't hold back in question time – nor should they. But that was nothing compared to being held accountable to every single one of you already.
This is the kind of radical transparency our country deserves. That openness and honesty is the only way to build a movement capable of addressing the urgent challenges we face.
I hope you're proud. I certainly am.
Yours in defiance,
Paul – for the GetUp team
PS. We didn't want to splash out on hiring a rehearsal in Canberra, so please enjoy this photo of me practicing my speech at an improvised lectern with a hotel microwave (
There are far more important things we need to fund!
)