Scott Morrison embarrassed us on the world stage.
In front of the United Nations, Morrison said Australia had nothing more to do when it comes to stopping dangerous climate change — no apologies.
1
Then he joined the chorus attacking and belittling Greta Thunberg and the other climate strike leaders who led
more than 6 million people
to hit the streets to demand action.
2,3
But we have a chance to take the world stage back from Morrison on climate action.
The next major meeting of world leaders — which features both Scott Morrison and Donald Trump — is next month in Chile.
And we know right where the leaders and the international press will be.
So we're putting together a massive billboard ad program to let the world know:
Scott Morrison doesn't speak for us — Australians demand climate action.
Chip in $12 for a high profile billboard campaign slamming Scott Morrison's climate cop-out on a global stage.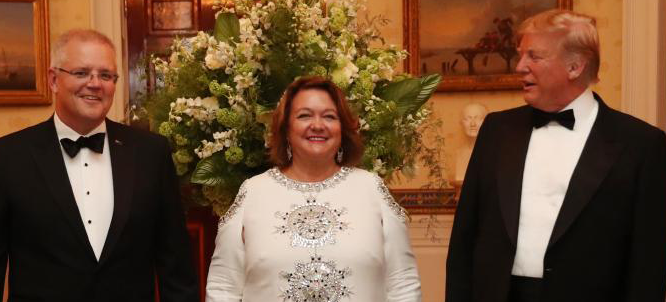 It's not a good picture.
Scott Morrison standing shoulder-to-shoulder with the Climate-Denier-in-Chief, Donald Trump, and Australian mining magnate Gina Rinehart.
It speaks to Morrison's whole message on his recent international trip: coal is king and the climate crisis is no big deal.
But another photo opportunity lies waiting for Mr Morrison.
At the Asia Pacific Economic Forum (APEC) next month, the big media moment is when all the world leaders wear a piece of traditional clothing from the host country.
Well, we're designing a very special outfit for Scott Morrison for our ad campaign.
We have to keep it secret for now, but it'll turn Morrison's Trump-Rinehart photo on its head.
Insiders have told us where the leaders and press will be staying, so we know just where to put the ad —
but we need to act quickly to get the prime spots.
Can you chip in $12 to get our secret billboard in front of world leaders and international media calling out Morrison's climate cop out?
There's a huge fight right now that we must win if we want to power a full, fast and fair transition to clean energy.
Student climate leaders from different nations, races and faiths have re-ignited the public movement for climate action. But politicians like Morrison and Trump, along with the Murdoch Press, are trying to silence this growing movement in service of their billionaire friends in dirty energy.
We've seen this through right-wing attacks on young leaders like 16-year-old Greta Thunberg, attacked on everything from her appearance to her mental state.
4
Why? Because they can't argue with her facts!
We've got an advertising campaign that can turn the tables on Morrison and all the far right climate deniers.
But it's not easy getting it in place half-way around the world, so we need to start now.
Chip in $12 urgently to turn the tables on Morrison and all the far right climate deniers on the world stage.
Patrick, for the GetUp Team
PS -
In just the last week more than 62,000 people signed a petition saying Scott Morrison doesn't speak for them — Australians want climate action.
Now we have a chance to put that message up in lights in front of a major gathering of world leaders and the international press.
Chip in $12 for a table-turning ad campaign highlighting our demands for climate action on the world stage in Chile next month.
References:
[1] "Scott Morrison uses UN speech to slam 'internal and global critics' of Australia's climate change policy," ABC Online, 26 September, 2019.
[2] "Morrison responds to Greta Thunberg by warning children against 'needless' climate anxiety", The Guardian, 25 September 2019.
[3] "Climate crisis: 6 million people join latest wave of global protests", The Guardian, 28 September 2019.
[4] "Greta Thunberg Really Likes This Joke Hotline Adults Can Call If They Hate Her", Huffington Post, 27 September 2019.