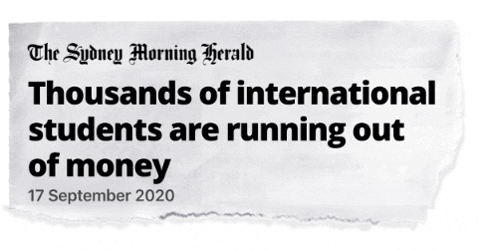 The Morrison Government is refusing to help two million people hit hard by the COVID crisis.
Everyone needs to eat and have a safe place to sleep. As people lost their jobs in the pandemic, the government rightly stepped in with support like JobSeeker and JobKeeper to keep families from going hungry or getting evicted.
But an

alarming new report

released today exposes a preventable crisis among two million people here with temporary visas who are excluded from support:
one in seven were left homeless, a quarter unable to afford meals and a third reliant on overstretched charities.
1
International students, graduates, sponsored workers, backpackers and refugees were studying and working hard alongside everyone else.
And when COVID struck, they got no support.
The Morrison Government is coldly calculating that people won't notice or that they will be too prejudiced to care.
But now this shocking report has hit the Financial Review, SMH, The Age, The Australian, SBS, and The Guardian.
2,3,4,5,6,7
So as the Morrison Government makes their final decisions for the October Budget, we need them to know that we have seen it, we care, and we demand action.
Will you join people in every electorate and email your local Liberal Party politician this damning report so they can't ignore people on temporary visas any longer?
Our governments and universities have continually enticed international students to invest years -- and often their life savings - to study and build a life here. Many now have careers and families here, are almost finished with their degree, or are on a path to citizenship.
Our universities and local economies rely on international students,
and many students will go on to become leaders in other countries. But our reputation is being destroyed
8
by a government that abandons people in their time of need. As one distressed student responded to the government's policy:
Our friends, colleagues, study buddies and neighbours are being cut out just because - like many of our parents and grandparents - they were born overseas.
We can't let this stand.
Send this new report NOW to make sure the Liberal Party has to reckon with it before the October budget.
Like people in the street who hurl racist abuse, Scott Morrison told visa holders in crisis to "go home"
9
- even though he's well aware international travel is now prohibitively expensive or outright impossible for many.
This callous government policy doesn't represent us. It's not right that some of us have access to the support we need to survive, and some of us don't.
Even Boris Johnson
is providing support to people on temporary visas in the UK, along with New Zealand, Canada, Ireland, and others.
10
The Morrison Government assumes we don't care enough about people in our community with temporary visas -- people who live, work, and contribute so much to this country.
But that's something we can change

right now.
Use your power as a constituent to join others around the country demanding a budget that includes assistance for everyone in our community who needs it.
The Morrison Government is deciding on the budget and this new report provides hard evidence it can't ignore.
Now it's up to us to demand that they do what's right, reflect our values and support EVERYBODY through this pandemic.
In solidarity,
Amy, Anisha, Naz and Tessa for the GetUp team
References
[1] As If We Weren't Humans: The abandonment of temporary migrants in Australia during COVID-19,
Migrant Worker Justice Initiative, UTS & UNSW,
2020
[2] Migrant workers, students sour on Australia,
Australian Financial Review
, 17 September 2020
[3] Thousands of international students are running out of money,
SMH
, 17 September 2020
[4] Thousands of international students are running out of money,
The Age
, 17 September 2020
[5] Coronavirus: Scott Morrison's message 'left us feeling abandoned', say foreign students,
The Australian
, 17 September 2020
[6] Racism has impacted a quarter of Australia's international students during the pandemic,
SBS
, 17 September 2020
[7] 'Callous treatment': international students stranded in Australia struggle to survive,
The Guardian
, 17 September 2020
[8] As If We Weren't Humans: The abandonment of temporary migrants in Australia during COVID-19,
Migrant Worker Justice Initiative, UTS & UNSW,
2020
[9] As coronavirus spreads, 'it's time to go home' Scott Morrison tells visitors and international students, ABC News, 3 April 2020
[10] As If We Weren't Humans: The abandonment of temporary migrants in Australia during COVID-19,
Migrant Worker Justice Initiative, UTS & UNSW,
2020