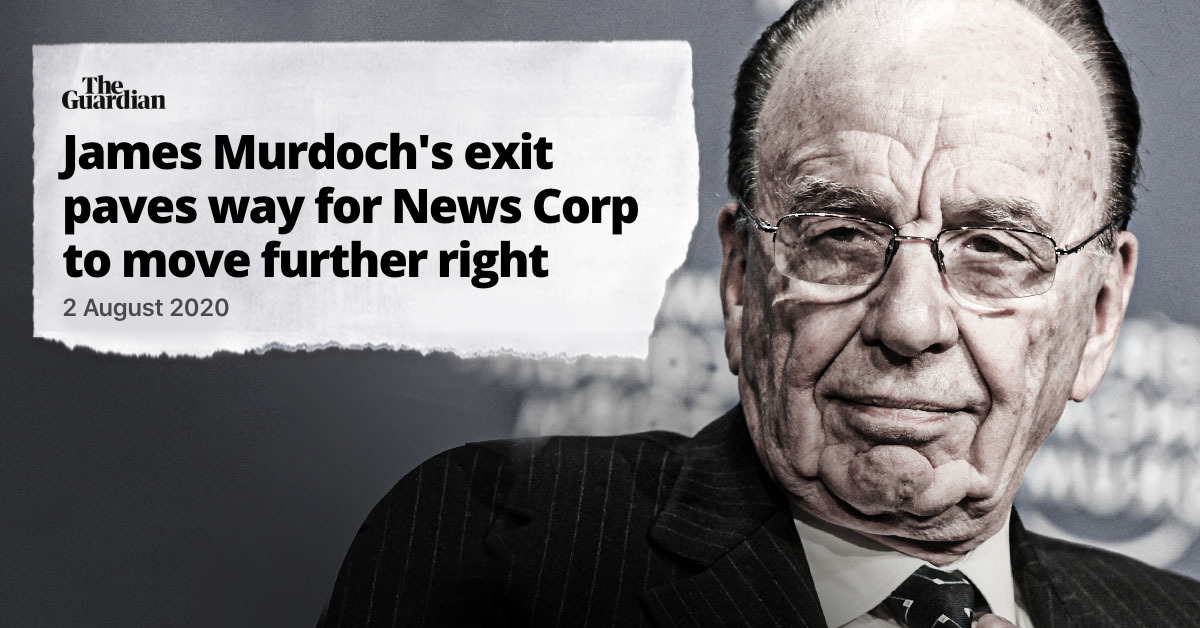 Last week Rupert Murdoch's son – James –
dramatically resigned from the board of his father's media empire citing disagreements with editorial content.1
Media insiders are saying James' departure is likely to "grant even more influence to his brother Lachlan" who shares his "father's more conservative views."
2,3
Here in Australia, the impact on the media empire's climate reporting could be

devastating.
We already suffer the world's third highest rate of climate denial, with a proven link to where people get their news.
4
But, if we're strategic about it, James' resignation makes NewsCorp vulnerable where it hurts most:

their advertising revenue.
If enough of us chip in we can get a crack team of researchers to run a comprehensive audit of their climate reporting going back five years, and commission focus groups into exactly how they've contributed to increased climate denial.
We'll tie it together in a media-grabbing report that includes details of their biggest advertisers, complete with logos and estimated advertising spends.
Can you
imagine
the response of brand conscious corporations being asked why they spend millions supporting pro-coal, pro-nuclear propaganda? But this research will need to stand up to intense scrutiny and legal threats.
It won't come cheap and we need to get started

fast

to make the most of this opportunity.
Can you chip in $12 build pressure on Murdoch's advertisers for supporting climate denial?
We know how powerful this kind of media analysis can be
– international headlines have been dominated by a campaign exposing the influence of Fox News on people not taking coronavirus seriously.
5
Against the backdrop of the Bushfire Royal Commission, we can replicate that level of coverage for the Murdoch Press' climate denialism in Australia.
Here's what we can fund if enough of us chip in:
Hard-hitting statistical analysis:

Media analysts will conduct a comprehensive audit of the Murdoch media's climate coverage over the last 5 year period, revealing exactly what proportion of their coverage promoted climate denialism.
A climate denial 'dirt file':

Our researchers will compile the most egregious headlines, quotes, by-lines and misleading editorial claims the Murdoch Press has published in relation to climate denial. This is crucial because it will allow people to join the dots and see the pattern of the Murdoch media's commentary over time.
Focus groups to prove a direct link:

We will commission focus groups to prove beyond a shadow of a doubt that there is a correlation between the Murdoch media's publications and climate denial.
Rigorous advertiser analysis:

To provide up to date information on exactly who is funding and enabling climate denial in Australia, and the most strategic targets to apply pressure on.
Will you chip in $12 to reveal the dangerous the climate denial of the Murdoch Press – and the companies that fund it?
Hold the Murdoch Press' advertisers accountable!
We know the impact of fake news and climate denial propaganda.
Australia suffers the third highest rate of climate denial in the world6
– corrupting our climate policy and the outcome of every federal election.
James Murdoch's resignation makes clear that the Murdoch press have a rampant culture of climate denial.
Which means it's the perfect time to dial it up a notch.
If we can show the full extent of dangerous denial in the pages of the Murdoch press, and link it to the companies who are funding it with advertising dollars – we can do just that.
But we're going to face close scrutiny and legal attacks – which means we need a well resourced team of analysts, researchers, and lawyers.
The Murdoch Press has a lot to answer for. Will you chip in $12 today to hold them to account?
The road to climate safety is paved with honest, decent journalism. Let's take a stand today.
In determination,
Ed, Charlie, Rafi, Tessa, Oliver – for the GetUp team
PS. The Murdoch media is under immense pressure from the community – Alan Jones has stepped away after ongoing concerns from advertisers,
7
SkyNews has taken steps to protect advertiser's brands from association with Andrew Bolt.
8
We have a rare chance to ramp up the pressure following James Murdoch's resignation – will you help us capitalise on it?
References:
[1] James Murdoch resigns from News Corp board over 'certain editorial content' in news outlets, ABC News, 1 August 2020.
[2] News Corp: Rupert Murdoch's son James quits company, BBC, 1 August 2020
[3] James Murdoch's exit paves way for News Corp to move further right, The Guardian, 2 August 2020
[4] The number of climate deniers in Australia is more than double the global average, new survey finds, The Conversation, 16 June 2020
[5] New research explores how conservative media misinformation may have intensified the severity of the pandemic, The Washington post, 25 June 2020.
[6] The number of climate deniers in Australia is more than double the global average, new survey finds, The Conversation, 16 June 2020.
[7] An advertiser exodus meant the writing was on the wall for Alan Jones, Sydney Morning Herald, 12 May 2020.
[8] Sky News ads go dark as Andrew Bolt defends 'innocent' George Pell, The Guardian, 1 March 2019.