The Murdoch Press is coming after GetUp... again.
Beat up stories in
The Australian,
1
a rambling editorial,
2
and a bizarre cartoon
3
. Riddled with errors and with a clear vendetta, the crux of their 'exposé' is that GetUp...
pays its staff.
They're lashing out because thousands of GetUp members funded a campaign against climate denial in the Murdoch Press.
And today,
we're putting a billboard right outside the headquarters of one of Murdoch's biggest Australian advertisers, Woolworths: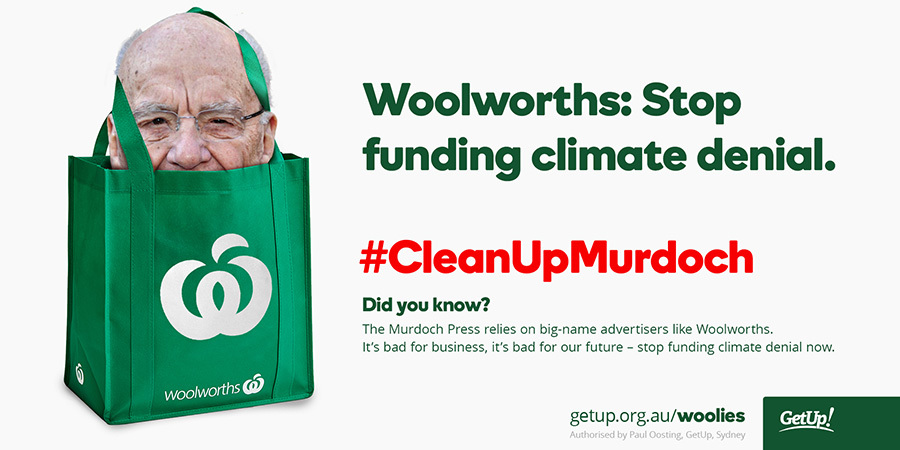 The Murdoch Press can lash out at us, but they have to listen to their big-money advertisers.
And those advertisers, like Woolies,
listen to their customers.
So while GetUp members are on the streets handing out flyers to hundreds of customers, and our billboard is roaming Sydney, we need to be on social media and on the phones, so Woolies gets the message loud and clear:
propping up climate denial is not okay.
Send your message to Woolies today:
On Facebook

On Twitter

On the phone!

(Check out the P.S. for talking points)
We know Woolworths has acquiesced before.
They banned plastic bags after significant public pressure
4
. And they withdrew advertising from 2GB after Alan Jones' despicable comments about then Prime Minister Julia Gillard's father
5
.
Now they need to do it again.
If advertisers start to distance themselves, the Murdoch Press will be forced to change its editorial stance on climate change – or face the financial penalty.
What's more, Woolworths knows
there has never before been a worse time to align your brand with climate denialism.
And advertising in the Murdoch Press does just that.
From
The New York Times
6
to Rupert Murdoch's own son
7
, the Murdoch Press has been criticised for its "relentless effort" to "protect conservative leaders and divert attention from climate change" during the bushfires. While homes were reduced to ash, and communities decimated, they were printing headlines like
"Warming is Good for Us"
8
. It has to stop.
Click to share on

Facebook,

Twitter, or call them on

0288850000
to amplify the message and force Woolworths to face climate denial in the Murdoch Press.
Harnessing our collective power, especially online, is what GetUp members do best. When big money and vested interests are at play, we fight back with people-powered digital campaigning.
It's one of the reasons the Murdoch Press are on the attack. Because while they remain a mouthpiece for fossil fuel interests, right-wing politicians and powerful institutions, we continue to stand for fairness, justice and people-power.
And Woolworths is about to see how.
While our mobile billboard visits Woolworths Head Office and key Sydney stores,
you will be flooding their social media pages and phone lines, driving home the message that

supporting climate denial is just not on.
Woolworths know the power of the internet,
but so do we
. And we can hold to account.
Take two minutes to make Woolworths understand: climate denial is never okay.
On Facebook

On Twitter

On the phone!

(Check out the P.S. for talking points)
Yours in solidarity,
Alix, Sarah, Tosca, and Justine for the GetUp team
P.S.

What should you say to Woolworths?

It's as simple as registering your concern that Woolworths advertises with the Murdoch Press, which publishes climate misinformation and denial. This certainly seems at odds with Woolworths' commitment to Australian farmers and families, and "to creating a greener future"9. Just this year, the Murdoch Press has published headlines like "Warming is Good for Us"10

and "We know the cause of these fires — and it's not the climate"11. This reporting holds back action on climate and hurts communities. We have to tell Woolworths - stand up for the climate.
References:
[1]'Bulk of GetUp donations spent on salaries, travel',
The Australian
, 23 February 2020
[2]'Every dollar you donate to GetUp is a waste of money',
The Australian
, 25 February 2020
[3]'Bulk of GetUp donations spent on salaries, travel',
The Australian
, 23 February 2020
[4]'Woolworths bids farewell to thin plastic bags',
The Sydney Morning Herald
, 20 July 2018
[5]'Brands pull ads from 2GB show following Alan Jones 'died of shame' comments about PM's father',
Mumbrella
, 1 October 2012
[6]'How Rupert Murdoch Is Influencing Australia's Bushfire Debate',
The New York Times
, 9 January 2020
[7]'Rupert Murdoch's son James criticises News Corp, Fox for climate change and bushfire coverage',
ABC
, 15 January 2020
[8]'Warming is good for us',
Herald Sun
, 26 January 2020 [PRINT VERSION]
[9] Woolworths website - Sustainability
[10]'Warming is good for us',
Herald Sun
, 26 January 2020 [PRINT VERSION]
[11] 'Miranda Devine: We know the cause of these fires — and it's not the climate',
Daily Telegraph
, 14 January 2020