Stopping Dutton is important to me! He is a threat to civil society, and these surveillance powers threaten journalists, democracy and our human rights to privacy.
---
Christopher, NSW
In 2020 we stood up to Peter Dutton.
When Dutton announced sweeping powers that could see journalists tracked just for doing their job, children as young as 14 interrogated by government agents, and lawyers kicked out of questioning for being deemed 'disruptive' –
GetUp members banded together to stop these changes slipping through unnoticed or going unchallenged.
More than
1,500
of us wrote to our local MPs urging politicians of all stripes to oppose these invasive powers. And almost
6,500
of us wrote a compelling submission to the high-powered committee charged with assessing these laws. Together we put the voices of everyday people front and centre.
Our democratic rights should not be curtailed but strengthened. As a former member of the Australian Defence Force, I have fought for the maintenance of such rights.
---
Graham, WA
But we didn't stop there.
To give these dangerous new laws the scrutiny they deserved, GetUp members chipped in to fund expert legal advice from leading barristers exposing how these powers could be used against journalists, children, and civil society.
And splashed the story across the media.
1,2,3,4,5

We made sure this expert legal advice – and our movement – couldn't be overlooked by inundating the politicians on parliament's most secret intelligence committee with more than
4,500 copies
.
And when more than
115,000
GetUp members added their names to the petition demanding politicians block Dutton's dangerous power grab, we took that opposition straight to Canberra...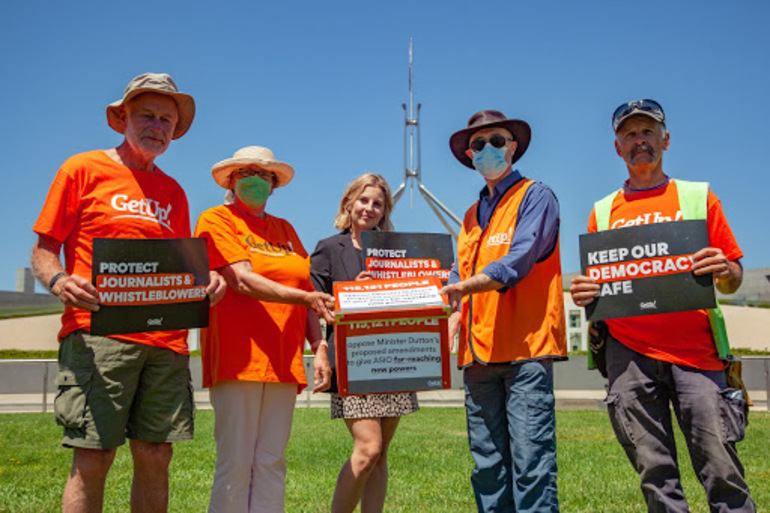 ...where Greens Senator Lidia Thorpe and independent MP Andrew Wilkie formally accepted all 115,000 signatures, from GetUp members like you, on the lawns of Parliament.
But as the clock counted down on parliament's final sitting day of the year, Dutton made his final move
: uniting with the opposition to rush the laws through without even the pretense of debate. We sprung into action, writing directly to each and every Senator demanding they block these laws from being rammed through at the last minute.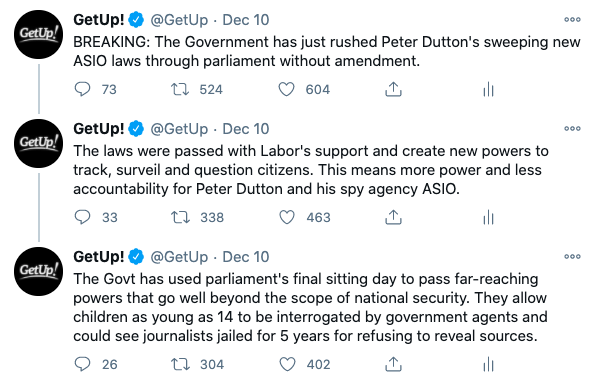 These are the actions of a government that thrives off secrecy.
And our demands for scrutiny and accountability ruffled Peter Dutton's feathers.
He even labelled one of the only elected politicians who spoke out against his laws an 'enemy of the state'.
6
So why is Dutton so upset? Because people like you – people who care about our democracy – aren't backing down. And his plans to turn Australia into a surveillance state are far from complete.
Just days before the year ended Dutton quietly introduced yet more Orwellian surveillance laws – ominously branded 'Identify and Disrupt' powers.
7
These new laws could let the Australian Federal Police hack into your social media accounts without you knowing and read, delete, or copy your private information.
8
Dutton's latest laws fly in the face of a recently released landmark review of Australia's surveillance regime, and digital privacy advocates and legal experts are sounding the alarm.
9,10
So as Dutton gears up to hand even more power to his spy agencies, our movement is more important than ever.
We have a history of holding politicians to account and speaking truth to power, and together, we'll keep fighting for an open, free, and fair democracy.
In determination,
Chandi, Tosca, and Oliver – for the GetUp team
PS – Time and time again, we have relied on the bravery of whistleblowers and journalists to expose wrongdoing, like the revelations of war crimes in the Afghan Files. In fact, it was investigative journalism into the very powers Dutton now wants to hand to the AFP that led to police raids on the home of journalist Annika Smethurst. These invasive laws put courageous citizens, and our democracy, in the firing line.
It is very important in a democracy that members of the public & the press feel able to speak up & report on issues that concern them without the fear of prosecution.
---
GetUp member, Tasmania
[1] 'Chilling attack on democracy': proposed Asio powers could be used against journalists,
The Guardian
. 20 October 2020.
[2] ASIO could use tracking devices on advocacy groups and journalists in the future,
Gizmodo Australia
. 20 October 2020.
[3] Dutton's bidding to put press freedom under threat, again: GetUp!,
The AIM Network
. 17 November 2020.
[4] ASIO Powers threaten activists,
The Saturday Paper
. 20 October 2020.
[5] Labor fights to keep safeguard on Asio's interrogation powers,
The Guardian
. 12 November 2020.
[6] 'Enemy of the state': Peter Dutton and Adam Bandt in fiery clash over ASIO powers,
The Australian
. 22 December 2020.
[7] Let's not rush important Bills through Parliament,
Law Council of Australia
, 3 December 2020.
[8] 'Extremely concerning': Dutton's Surveillance Bill risks undermining Australians' privacy,
The New Daily
. 4 December 2020.
[9] AFP's new power to spy on Australians,
The Saturday Paper
. 12 December 2020.
[10] 'Extremely concerning': Dutton's Surveillance Bill risks undermining Australians' privacy,
The New Daily
. 4 December 2020.