Three months ago, GetUp members chipped in to fund a report by independent journalist Michael West to expose, document and immortalise our sordid political past.
Today we're releasing the first tranche of that work – a hard hitting report by West that takes a look at the scandals we've forgotten about in the six years before #sportsrorts.
The report doesn't just document the scandals – it reveals just how much our political culture has fallen into disrepute.
Where politicians once took responsibility for their actions – now they act with impunity, turning a blind eye to misconduct and sweeping scandals under the rug.
This is just the beginning.
In the days ahead Michael is going to launch his one-stop-shop online tracker of misconduct scandals, and we'll up the ante with ads targeting the politicians named in this report.
But to really turn up the pressure on the Coalition, we need them to know their constituents are watching.
Will you share it with your federal Coalition MP – and let them know we won't accept a weak integrity commission?
This hard-hitting report reveals the true magnitude of misconduct in our political system.
The report also provides a simple, accessible, objective comparison of the different Integrity Commission proposals before parliament – and explains how the Coalition's falls short.
Watch Michael West explain exactly how this report will propel the campaign for a Federal corruption watchdog: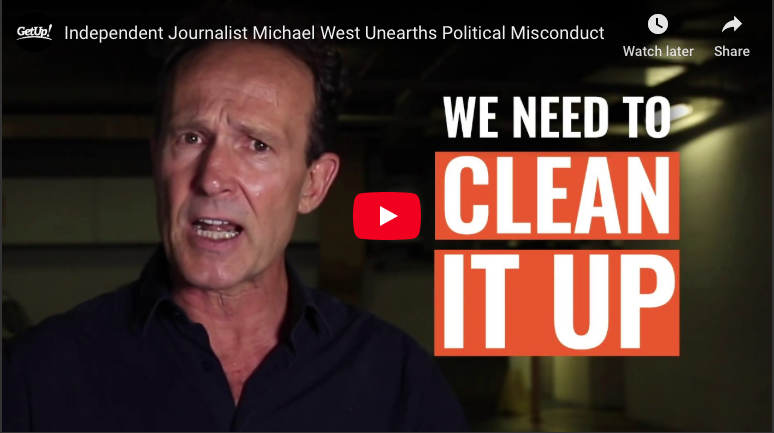 Right now, politicians are debating over how political misconduct should be treated.
The Senate has passed a bill with the functions required to crack down on corruption. But the Coalition wants to let politicians weasel their way out of corruption allegations with a proposal that lacks essential powers, and will keep misconduct investigations behind closed doors.
The Coalition partyroom is divided on an effective Integrity Commission – because if they build one, many of them will live there.
But we can't let them continue to stall, delay, and diminish the importance of this reform at a time when trust in politics is collapsing.
Can you share this report with your Coalition MP, highlighting the alarming need for a federal corruption watchdog?
This is just the start.
Here's the plan from now:
Take the report online

– with

Michael West's one-stop-shop for corruption reporting, so our politicians can no longer hide from their misconduct.
Get the long history of misconduct into the media and most importantly, in front of our politicians

to make sure they pass the legislation required to hold our representatives accountable for these misdemeanours.
Use this history as the basis of a hard hitting series of digital ads

that remind people what their representatives have been up to in their name.
And keep your eyes peeled

for some cheeky stunts with some "watchdogs" of our own.
But right now the most impactful thing you can do, as someone who lives in a Coalition held electorate, is make sure your representative knows that we won't accept Porter's sham integrity commission.
Will you send your MP a copy of this report, and let them know you want transparency, accountability and propriety restored to our politics?
Your support for our democratic integrity, and the independent journalists fighting to restore it – means so much. We can't wait to continue the fight with you.
In solidarity,
Ed, Tessa, Charlie, Rafi and Oliver – for the GetUp team
PS. This report was written by independent journalists Michael West and Callum Foote. Michael West has made a name for himself over two decades of investigative journalism. Now as an independent journalist, without the backing of major corporations – he's free to follow the money, and hold power to account no matter who it might annoy.
Check out his website, and support his ongoing work here.