'You can't mine with teaspoons'
.
That's what Resources Minister Keith Pitt said yesterday, in the context of his government pushing to butcher our Environmental Protection Laws.
1
The Morrison Government is making no secret of their plans to fast track these dangerous changes –
despite the fact there is currently an independent review that won't deliver its findings for months.
2
The first draft review is due in a matter of days. It's clear the government and fossil fuel lobby are preparing to ignore any findings that aren't to their liking.
To defend the laws protecting our wildlife, drinking water, and communities, we need to show the government that any move to push through changes before the review is finalised will be politically toxic.
Can you sign the petition to Environment Minister Sussan Ley, asking her to allow the review of the Environmental Protection Laws to be completed before any changes are made to it?
The fact is our Environmental Protection Laws are already too weak. In the ten years they've been in place:


at least six animals have become extinct,


deforestation and land clearing continues to kill more than tens of millions of native mammals, birds and reptiles every year, and


communities have been excluded from planning processes.3



If the government succeeds in making these laws even weaker, the damage to our environment and communities will be irreversible.
Can you take one minute to sign the petition to Environment Minister Sussan Ley, demanding our Environmental Protection Laws be strengthened, not made even weaker?
A thriving natural environment is essential for our health and safety. Healthy forests and oceans absorb carbon and heat from the atmosphere, protecting us from dangerous climate change.
Just last month, leading health professionals urged the government in an open letter to put health "front and centre" in the review of our Environmental Protection Laws.
4
You can bet the projects which Morrison will want pushed through do the opposite. Coal mines contribute to climate change, logging makes bushfires more intense and many property developments tear down local forests.
For the safety of our communities and our planet, can you sign the petition to Environment Minister Sussan Ley and
let her know you want our Environmental Protection Laws to be strengthened - not weakened.
In determination,
Alix, Tosca, Sarah and Bea - on behalf of the GetUp team.
PS GetUp members have already had incredible impact on this campaign – funding national polling which was covered in media all across the country and hard-hitting advertising in

The Canberra Times

and plastered all over the pages of

The Guardian. The road to protecting and strengthening our Environmental Protection Laws is going to be a long one. But together, we can fight back:

sign the petition to Environment Minister Sussan Ley now.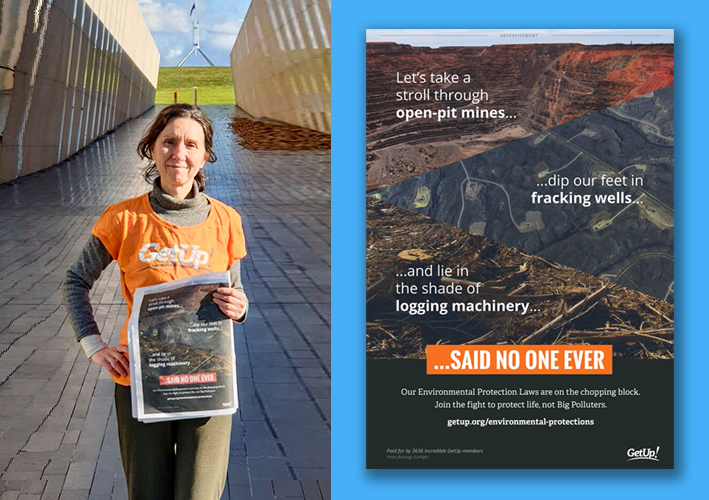 Photo: GetUp member Fiona, holding our full page ad in The Canberra Times outside Parliament House last month.
References
[1] 'You can't mine with teaspoons': minister calls for speedy decisions',
The Sydney Morning Herald
, 16 June 2020
[2] 'Environment laws in Morrison's sights in bid to fast-track rail, road and mines',
The Sydney Morning Herald
, 15 June 2020
[3] Submission to the second independent review of the Environment Protection and Biodiversity Conservation Act 1999,
The Wilderness Society
, April 2020
[4] 'Australia's "failing" environmental laws will fuel further public health crises, Nobel laureate warns',
The Guardian Australia
, 25 May 2020