Just who do you think has Scott Morrison's ear?
Last week, he legislated the most flagrant transfer of public wealth to the rich this country has ever seen
1
. He revived Pauline Hanson's agenda to hijack the ABC.
2
And he's reintroducing a humiliating drug testing scheme for people struggling to keep food on the table.
3
There's no question that corporate lobbyists, billionaires, and the Murdoch Press are setting this Government's agenda.
For our movement to defend the things we hold dear, it's time we set our own.
So while Morrison courts the rich, the loud and the vested interests,
we want advice from you:
We're setting GetUp's strategy for 2020 – can you share your thoughts?
We know that everyday people have the power to create real change – even under a hostile government.
It's why,
as you're reading this
, members of the Coalition are voting to ban people like you from engaging with politics at polling booths on election day.
4
It's why, just last week, we were able to secure an important win to ensure a Senate inquiry into the Medevac Bill, giving us precious time to fight back against Dutton's attempts to scrap the legislation that will bring sick people seeking asylum to safety.
5
It's why, every year, no matter who is in government, thousands of people like you add their voices to
define the issues, build the strategy and determine the tactics.
Our vision is only as strong as the sum of those who shape it: can you add your voice?
The vision survey will build on the valuable reflections and critical insights offered by more than 15,000 of you in our post-election campaign survey. The results will be incorporated into a broader, in-depth review, but we're excited to share some initial insights: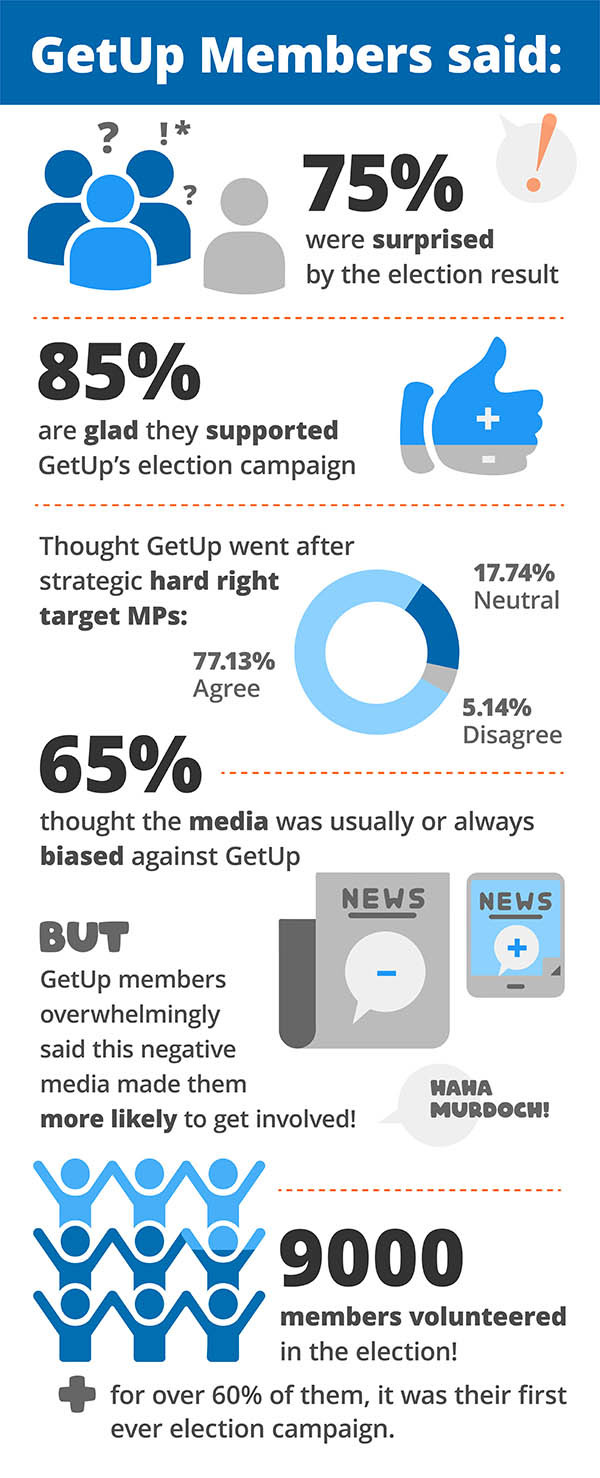 These are early steps in a long process that we want to get right – we're determined not to rush anything. Once we've pored over the post-election debrief and the election survey, we'll have all that's needed to set the agenda.
You have a vital part in that.
You have insight that nobody else does. The sum of a million unique insights is incredibly powerful.

Please add your thoughts – because this vision and this movement is nothing without you.
Yours gratefully,
Emily for the GetUp Team
References:

[1] Coalition's move to flatten tax brackets will cost $147bn, new analysis finds, The Guardian, 8 April 2019


[2] One Nation wins ABC changes in media reform deal, The Guardian, 15 August 2017


[3] Government's welfare drug-testing plans will end in disaster, The Herald Sun, 10 July 2019


[4] Peter Dutton's move to abolish medevac regime delayed by Senate inquiry', The Guardian, 4 July 2019


[5] LNP members push to have GetUp banned from polling booths, Brisbane Times, 12 July 2019