"Warming is good for us".
1
In the midst of the devastating bushfires,
this
was Andrew Bolt's headline.
As a recession bears down on family homes and countries alike, toxic voices are pushing for a fossil fuel-led recovery – a most dangerous oxymoron. The loudest of those voices is, of course, the Murdoch Press.
We need to hold the Murdoch Press accountable for validating climate denialism in this country. But
more importantly
, we need to support the voices taking us forward. Those driving conversations about progressive solutions to the economic and climate crises we face.
The ABC, The Guardian, The Monthly, The Conversation.
These voices are part of a robust chorus that is a powerful antidote to the Murdoch Press.
The Quarterly Essay is a voice of reason and fact. In its next issue, Judith Brett (emeritus professor of politics at La Trobe University) takes on coal. Brett explores the history of resource lobbying that has shaped our politics. It's essential reading for those of us who want to take on the Bolts, the Murdochs and other powerful climate deniers in our path.
We need to support these conversations. Because they lead to real solutions and sustainable change.
For every copy of this Quarterly Essay bought, GetUp will receive a $5 contribution to support our campaigns. Can you support the voices we need to take on the climate crisis and the Murdoch Press?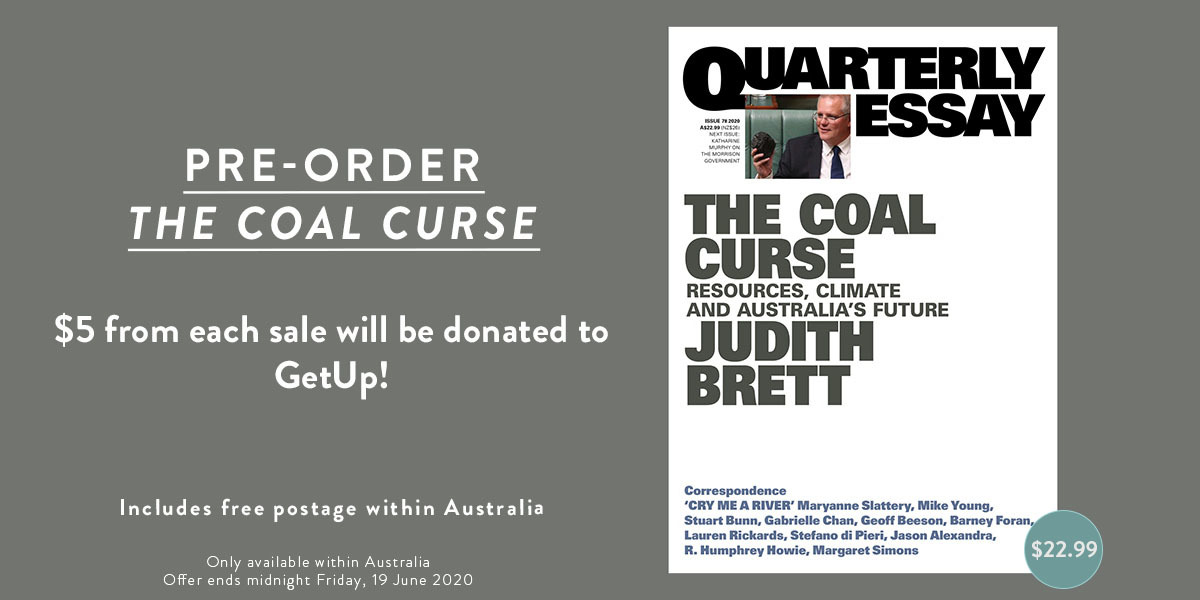 "Judith Brett ... shows how the mining industry learned to run fear campaigns, and how the Coalition became dominated by fossil-fuel interests to the exclusion of other voices."2
Just weeks ago, Morrison created an advisory body to assist our economic and social recovery from the effects of coronavirus. Led by former mining CEO Neville Power and riddled with fossil fuel lobbyists,
3
the National COVID-19 Coordination Committee is a stark reminder of the influence the coal and gas industry has over our Government.
Brett's analysis gives us the tools we need to fight vested interests, multinationals, and the "the pernicious role of the Murdoch Press".
4
But in turn, we must support this ongoing work and the publications behind it.
Can you purchase a copy of Judith Brett's essay, where $5 will go to GetUp and the rest will go toward supporting high quality analysis by educated voices?
Here at GetUp, we build campaigns on the back of good journalism. Our campaigns, and the solutions we fight for, are grounded in truth. We rely on rigorous, fact-based research and analysis from journalists and academics.
Click here purchase a copy of

the Quarterly Essay

now.
With hope,
Tara - for the GetUp team
References:
[1] 'Warming is Good for Us', Herald Sun, 1 January 2020.
[2] Excerpt from Judith Brett, "Quarterly Essay 78: The Coal Curse", Apple Books.
[3] Fossil Fuel Watch, 350.org.
[4] Excerpt from Judith Brett, "Quarterly Essay 78: The Coal Curse", Apple Books.