Federal politicians had a hard time ignoring you last week.
Our movement's campaign to defend our
Environmental Protection Laws
is off to a flying start.
Full page ads. Sophisticated digital advertising. National polling that shows just how politically toxic it is for the Government to let Big Polluters interfere in our environmental policy.
And more than 138 headlines across the country!

After news broke that the Government was gearing up to butcher the laws protecting our environment and our communities
1
, our movement's response was swift — and
extraordinary.
3,843 GetUp members
chipped in to a campaign to defend our
Environmental Protection Laws
and ensure no changes be made ahead of a critical review due later this year.
With Parliament returning for the first time in months, and the threat of this dangerous legislation looming, we came together to make sure politicians heard our message loud and clear.
Here's how we did it:
With your help, we hit Canberra with a massive advertising blitz just as Parliament returned, including:
A hard-hitting (and cheeky) full-page ad in

The Canberra Times;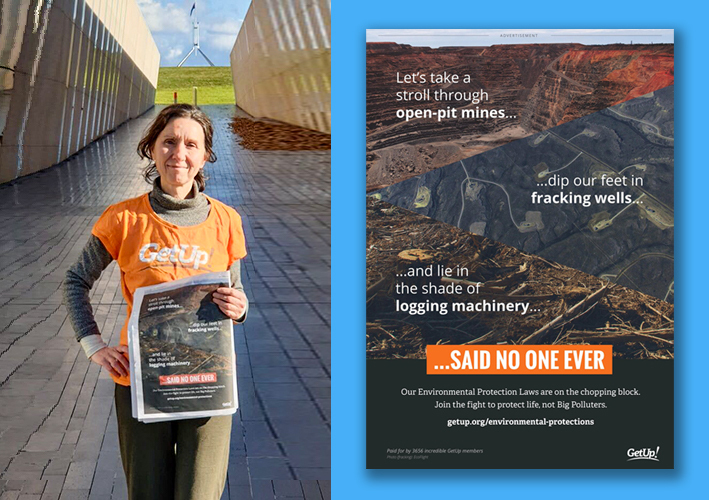 Photo: GetUp member Fiona, holding our full page ad in The Canberra Times outside Parliament House last week.


Geo-targeted digital ads landing right in the social media feeds of politicians and staffers at Parliament House. Over the three days we ran these ads, they were seen over 23,000 times.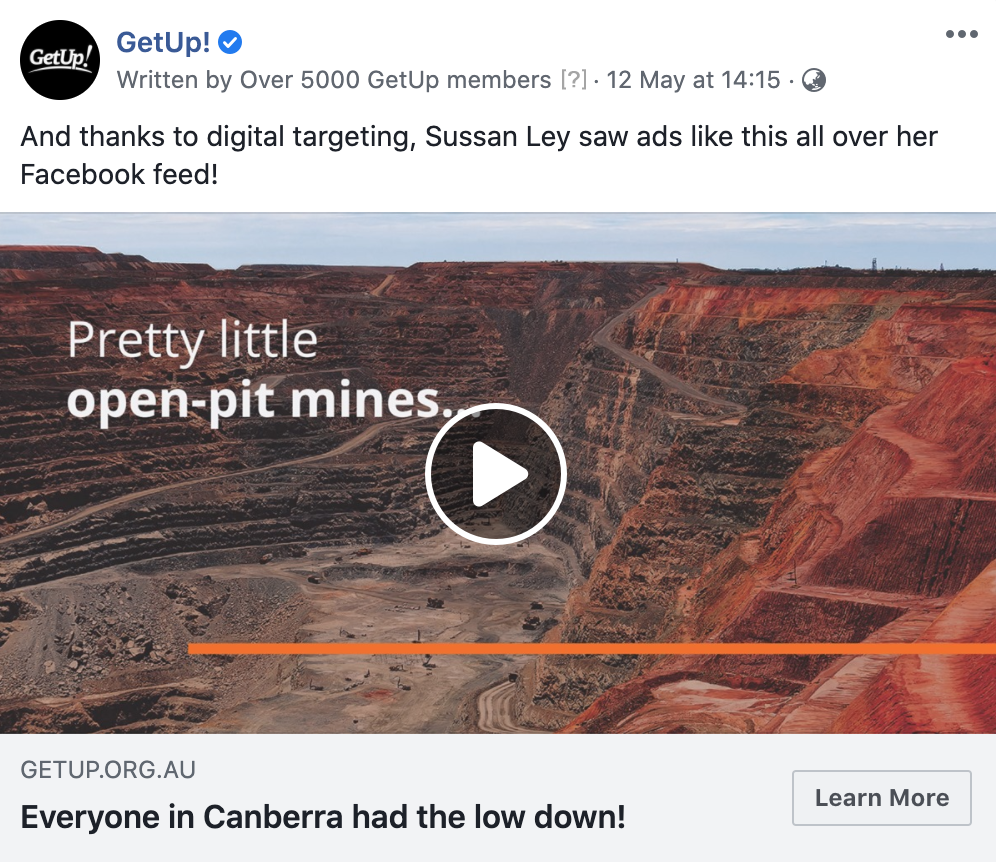 And just to top it off, we've taken over

The Guardian's Environment website for 10 whole days, with looping videos of our message, seen by

millions.

And we didn't stop there.
In the last 24 hours, polling commissioned by GetUp has hit the headlines (138 headlines to be precise!).
2
The polling showed an overwhelming majority of Australians think
mining corporations, the logging industry and property developers should

not

be able to interfere with our environmental protection laws.
Thanks to you, we've demonstrated to the Government that
any move to wind back existing protections is politically toxic.
And we can't stop now.
Because we're not the only ones vying for the attention of politicians.
Last week, while our ads were live, fossil fuel lobbyists called for regulations protecting our environment to be
relaxed
, making a submission to the Federal Government.
3
And while no "reforms" have yet been pushed through Parliament, we know they are still firmly on the table.
It's more important than ever to keep up the fight.
And to grow it.
Will you share this petition with at least four friends so we can stand up to the Big Polluters pushing for dangerous changes in Parliament?
We're already in the midst of working with experts to pull together case studies on wildlife at risk — keep your eye out for more on this soon.
In solidarity,
Alix, Sarah, Tosca, Bea for the GetUp team.
References:
[1] 'Coalition is aiming to change Australia's environment laws before review is finished',
The Guardian
, 23 April 2020
[2] 'Aussies want enviro laws left until review',
The Canberra Times
, 18 May 2020
[3] 'Fossil fuel lobbyists call for regulation breaks during pandemic',
SMH
, 12 May 2020