We've just come out of the budget lockup and it won't surprise you to hear that the Morrison government announcements tonight are once again focused on big corporations and giving their wealthy mates more handouts.
Every year the budget is about choices - and this government is making the wrong ones.
The Budget tells a story about the government's vision for our country and the type of society they want to live in. It's clear that this year's budget is choosing millionaires over the rest of us and backing in fossil fuels over renewables, accelerating us towards a climate emergency.
Scott Morrison envisions a gas-powered future where 99% of companies get tax breaks but 2 million people don't have enough work. Want to find out what else was hidden away in their budget announcement? Join us tomorrow night to hear our take on the budget and what it means for the future of our community and our planet.
Tax cuts mean nothing if you don't have a job. They don't stimulate the economy, but they're two thirds of the government's entire stimulus plan. We're going into debt to pay for tax cuts for the super-wealthy. Tonight, tax changes mean millionaires get $2,500, the working poor get $250 and the unemployed get a kick in the teeth.
What a waste! These are billions could have been invested in job creation and full employment, in building public housing, renewable energy and high speed rail while delivering free childcare and improving aged care.
Instead the Liberals just extended $99 billion a year in handouts to the super-wealthy and corporations.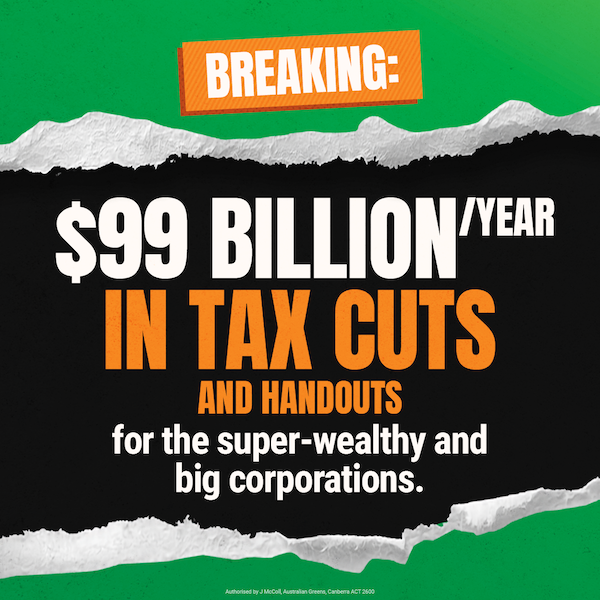 Does someone earning $200k a year need an extra $50 a week in their pocket, while those on the Disability Support Pension, JobSeeker, Youth Allowance or earning less than $18k a year get a big fat nothing?
Worse, these tax cuts for high income earners are permanent, but all low income earners get is a one year commitment and all minimum wage apprentices can hope for one year of basic wage support. These are the sorts of choices this government has made with this budget.
Don't be fooled by their spin. This government might look like it is making huge ideological concessions, but today's spending announcements are just drop in the ocean compared with a decade of cuts they've already made to everything we need to fight this pandemic - from science, to health services and aged care. The Government has actively chosen high unemployment, low wages and tax cuts for the super-wealthy over full employment and a green recovery.
We will fight this budget all the way. The Greens are calling on Labor and crossbenchers to block the 'tax cuts for millionaires' package.
We will immediately use our numbers in the Senate to overturn the JobKeeper cuts and we will call on Labor to make the right choice and join us in taking on this terrible government.
In the worst recession in generations, we're going deeper into debt to pay for tax cuts for the super-wealthy. If we took this approach during the Great Depression, we'd still be in it.
But it's not too late to put this budget in the bin, join us tomorrow night to find out what happens next.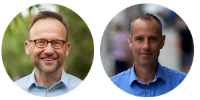 Adam Bandt & Nick McKim
Greens Leader & Greens Treasury Spokesperson