Angus Taylor is under criminal investigation for using altered documents to attack and falsely shame a political opponent – Lord Mayor Clover Moore.1
Rather than distancing himself, Scott Morrison inappropriately called the NSW Police Commissioner (an old friend of his) while Attorney General Christian Porter was in the room.
2
It's scandal on top of scandal – but for the Coalition, it's just another day at the office.
They aren't breaking a sweat because they
know
that even if they cross the line, they won't face consequences. Without a federal corruption watchdog with teeth –
pollies get to police themselves.
But we've got a chance to change that.
In September, Senator Larissa Waters passed a genuine, substantive, corruption watchdog bill through the upper house, with support from the ALP and the crossbench.
3
If we back the Senate with a massive public petition, we can put the government in a bind:
they can support a real bipartisan corruption watchdog, or look like they've got something to hide.
✍️ Sign here to force the government to create a genuine corruption watchdog! It's time to hold politicians accountable!
Angus Taylor isn't the only one under a microscope at the moment.
Ken Wyatt has been criticised for awarding a multi-million dollar government contract to a company with links to a former Liberal Party candidate.
4
George Christensen is blocking journalists from accessing records about his overseas travel.
5
And to distract from their growing record of scandals, the Coalition have put forward a proposal
which has been called a 'sham' and a 'disaster' by senior lawyers, former high-court judges and even the former NSW anti-corruption commissioner.
6,7
The differences between the Coalition's proposed watchdog, and the genuine reform championed by Larissa Waters in the Senate are important: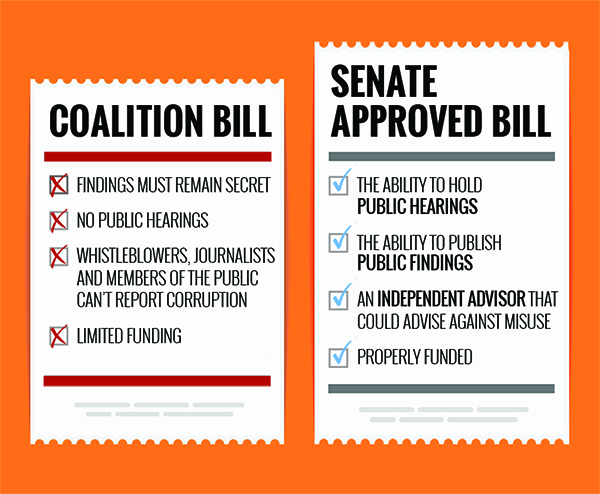 Under the Coalition's bill, the public can't have confidence that scandals will be dealt with openly and seriously.
The reform could end up hiding more misconduct than it unearths.
That's why we need to show the coalition that everyday people are watching – and we want genuine reform.
Will you join the thousands of people signing the petition to reject the Coalition's sham watchdog? We want real reform!
The Coalition are hoping that we'll stay quiet so their scheme to cover up corruption stays a secret.
But we've got a plan to expose them – and it starts with you.
At a time where distrust in politics is at an all time high, we can't let them get away with a reform that will only make corruption worse.
8
If the Coalition have nothing to hide – there should be no issue passing the Senate's corruption watchdog!
In determination,
Ed, Tessa, Rafi and Charlie – from the GetUp team
References:
[1] PM stands by Angus Taylor despite NSW police investigation into doctored document, The Guardian, 26 November 2019.
[2] Christian Porter did not seek advice on PM's controversial call to NSW police chief, The Guardian, 2 December 2019.
[3] Senate passes Greens bill to create federal Icac, The Guardian, 9 September 2019.
[4] Ken Wyatt defends awarding of $2.2m contract to organisation linked to Liberal candidate, The Guardian, 3 December 2019.
[5] Nationals MP George Christensen blocks release of AFP travel inquiry documents, SMH, 1 December 2019.
[6] Coalition's plan for anti-corruption body a 'sham' set up to protect MPs, former judge says, The Guardian, 24 January 2019.
[7] Federal anti-corruption body must have power to make arrests and conduct searches, judges say, The Guardian, 23 January 2019.
[8] Trust in politicians and government is at an all-time low. The next government must work to fix that, The Conversation, 25 February 2019.