With only months until the Federal Budget – the time to shape the future of this nation is

right now.
Over the summer bushfires, floods, hailstorms, and thunderstorms wreaked havoc across the country.
Yet, Morrison has shown no leadership
– and no willingness to do the work needed for a prosperous and sustainable future.
We can't trust this Government to get its priorities straight. That's why we asked you what you're ready to fight for in the 2020 Budget.
And more than 15,000 of you answered the call.
Here's a look at the top-line results: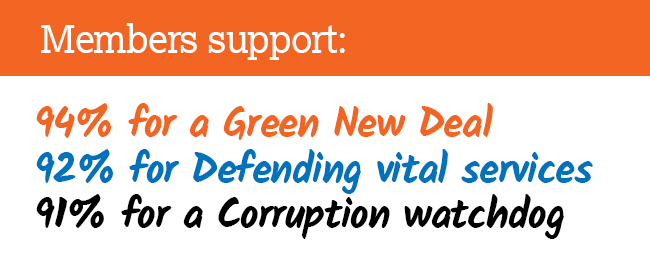 We also saw massive support for protecting our public broadcasters, and a federal jobs guarantee.
Read our full Budget Submission
For the next 3 months, this is what we'll fight for. We'll fight to shift politics away from austerity, neoliberalism, and crony capitalism –
and towards a just, renewable economy that leaves no one behind.
Together, we'll make sure it is the voices of everyday people that reverberate through our politics – rather than the dark money of cashed-up corporate lobbyists.
When you say you want a Government that invests in our shared future – we've heard you.
We've compiled your responses into a Budget Submission that's been sent to the Government.
You can read the full submission here.
The word cloud below shows the most common words in your survey responses and highlights that we all want the same things – funding for Newstart, investments in health, and real climate solutions. We want a government committed to solving the
real
deficits in our community, rather than a deficit on a spreadsheet in Canberra.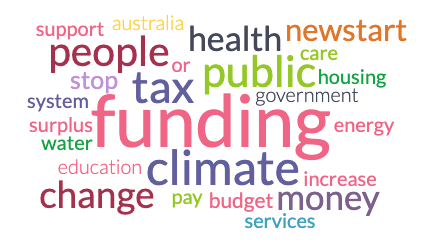 We're just getting started.
This Government only represents hard-right shock jocks, corporate tax dodgers, and fossil fuel executives.
But together we have the power – through our communities and our passion – to make these demands a reality.
Over the coming months GetUp members from across the country will organise local town halls, demonstrate on the streets, and take these messages directly to their MPs and Senators.
In the wake of the most devastating bushfire season we've ever seen, we face a stark choice: will we let inaction, fear, and greed plunge us further into despair? Or will we work together and build a just, sustainable, and transformative economy?
We know which choice we've made – and together, we'll keep fighting until we win.
Yours in solidarity,
Ed, Rafi, Charlie, Tessa, and Oliver - for the GetUp team
PS: While surveys like our budget survey give us in-depth insight into what you want us to work on, the best way to make your voice heard in the halls of power is by signing onto campaigns with tens of thousands of your fellow citizens. Here are a few you can get involved with, right now:
Stand up for renewables!
A corruption watchdog with teeth!
Raise Newstart!