The vote to repeal the life-saving Medevac law should have happened this week – but it didn't.
Instead, we watched from Canberra as the Morrison Government backed away from the rising public pressure and pushed the Medevac vote to the next sitting period.
Now, we have 10 more days for doctors to try and get sick people detained offshore the care they need. And 10 more days for us to fight to save Medevac.
We know that as the vote nears, undecided politicians will take their cues from the community.
Together, we need to show that the community overwhelmingly wants doctors, not Dutton making medical decisions for people detained offshore.
Can you sign the petition and stand with doctors, medical whistleblowers and Australia's peak medical bodies as they call to #SaveMedevac?
This week we've seen rural Australians and GetUp members camping out on the lawns of Parliament in an overnight vigil, rallies across the country and 13 of Australia's peak medical bodies renewing calls to #SaveMedevac.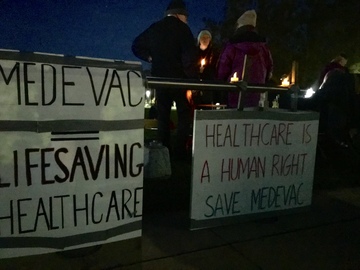 The overnight vigil in Canberra organised by Rural Australians for Refugees
Thousands of GetUp members chipped in to broadcast a hard-hitting TV ad featuring medical whistleblowers including war veteran and former Senior Medical Officer Dr Nick Martin across the country.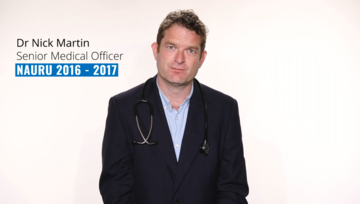 War veteran and former Senior Medical Officer on Nauru, Dr Nick Martin from the TV ad funded by thousands of GetUp members.
And now critical politicians like Senator Jacqui Lambie are still undecided - forcing the Government to push back the vote.
Together, we've bought another 10 days. Now, we need to make them count.
Can you sign the petition and show politicians from across the spectrum that the community stand with doctors and supports calls to #SaveMedevac?
The Morrison Government and Minister Peter Dutton have been spinning lines and lies for months about Medevac – claiming veterans oppose the law, that floods of people would arrive and that people aren't
actually
sick despite Dutton approving nearly everyone for transfers without any review.
1,2,3
They're going to do everything they can to tear this law down. But we're ready to fight, because we know it should be doctors, not politicians, who decide the medical treatment for patients detained offshore.
And the only way that happens is if Medevac stays.
In determination,
Shen and Renaire for the GetUp team
References:
[1] Peter Dutton tells Lambie that war veterans want medevac laws scrapped, The Guardian, 17 October 2019.
[2] Doctors reject claims of flood of asylum seeker transfers, SMH, 14 February 2019
[3] Panel of 'medevac' doctors backs minister, Nine News, 14 October 2019.