As MPs from around the country arrive in Canberra ahead of tonight's Federal Budget,
Vanita is there to greet them.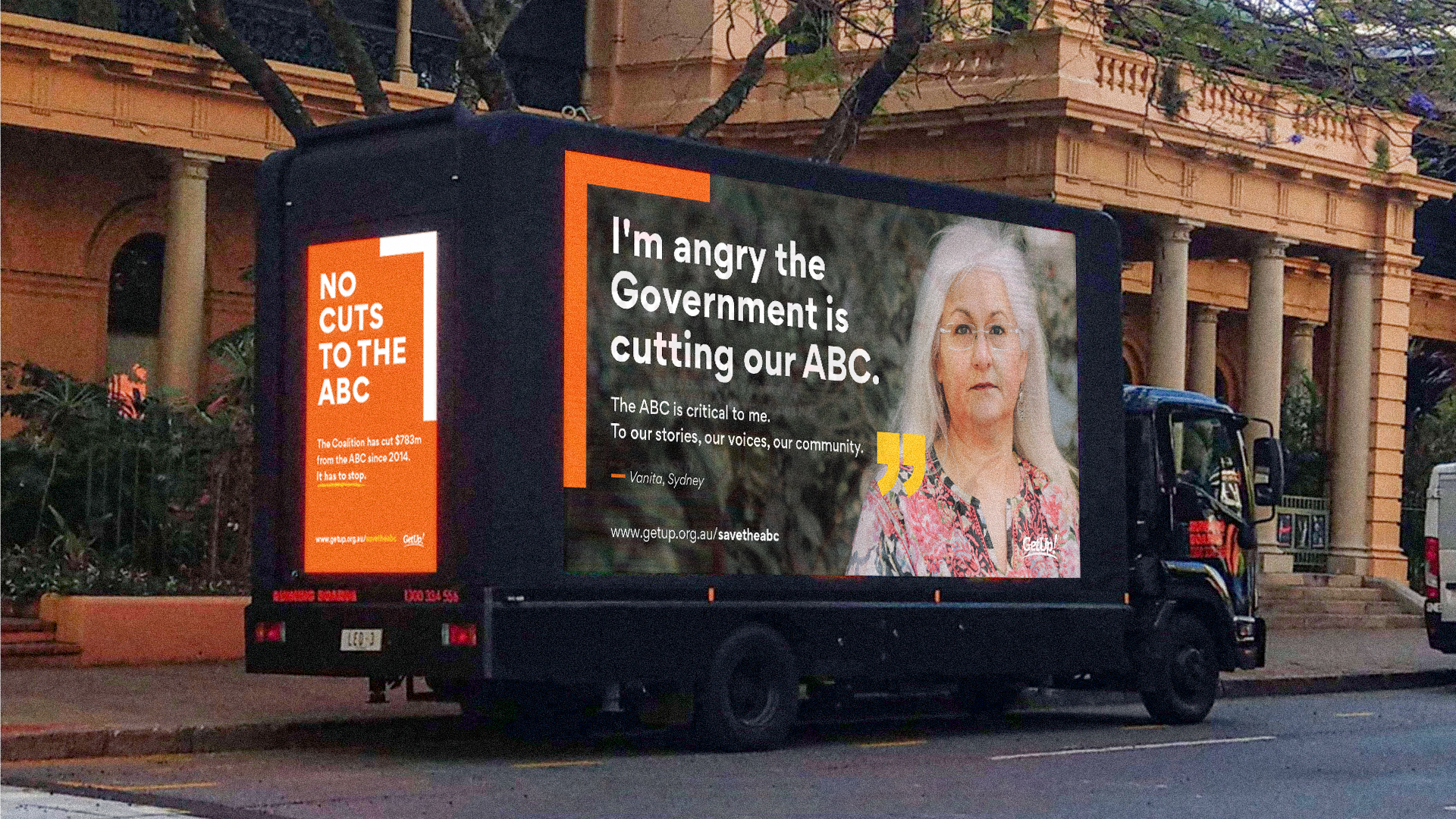 As Scott Morrison and his Ministers walk through the halls of Parliament,
it's Christopher who will stare back at them.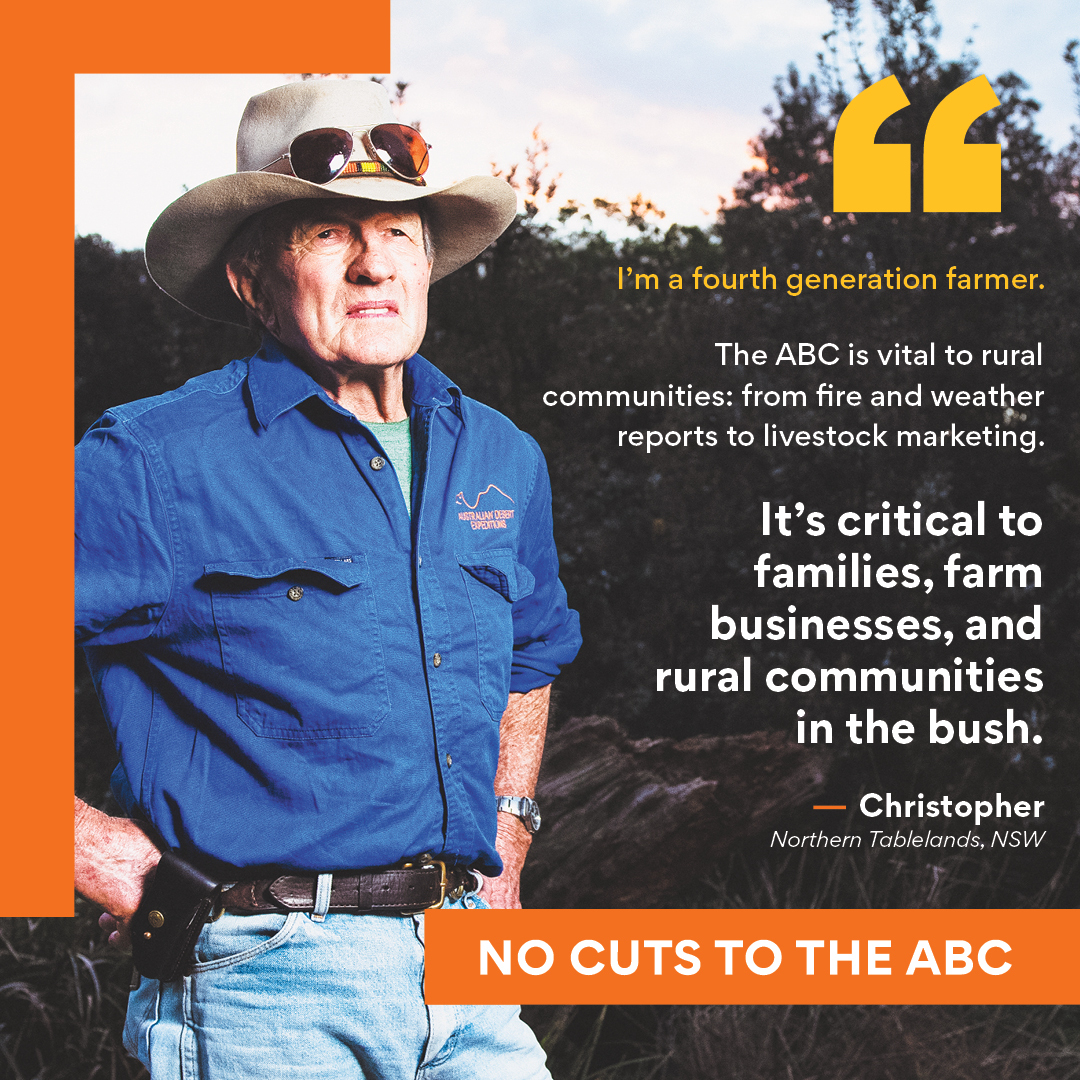 For the past week, stories of GetUp members and why they care about the ABC have plastered city walls, covered regional papers, travelled around key electorates, and dominated the
Sydney Morning Herald.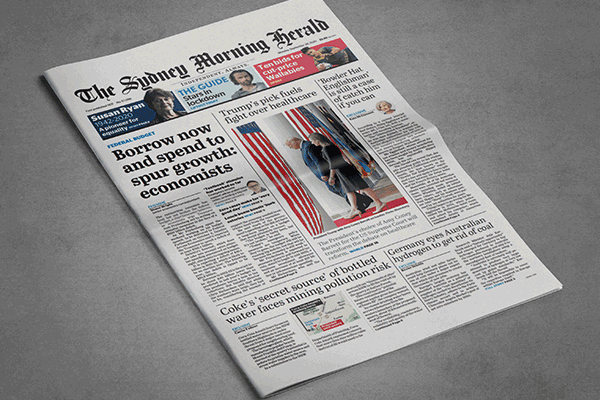 Hundreds of posters (
and a mobile billboard!
) have covered the electorates of Scott Morrison and Minister for Communications Paul Fletcher.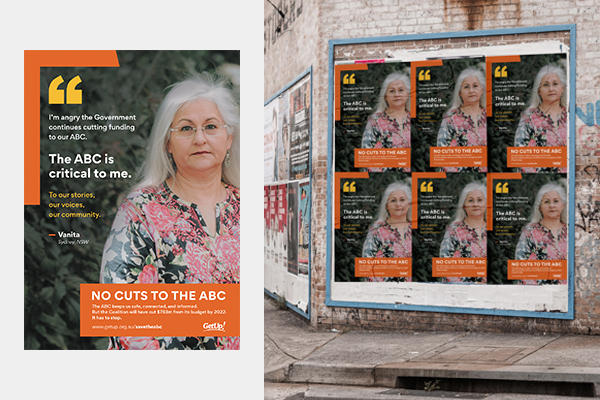 Joanne's story – a story that speaks to why so many of us care about our public broadcaster – appeared throughout South East Queensland.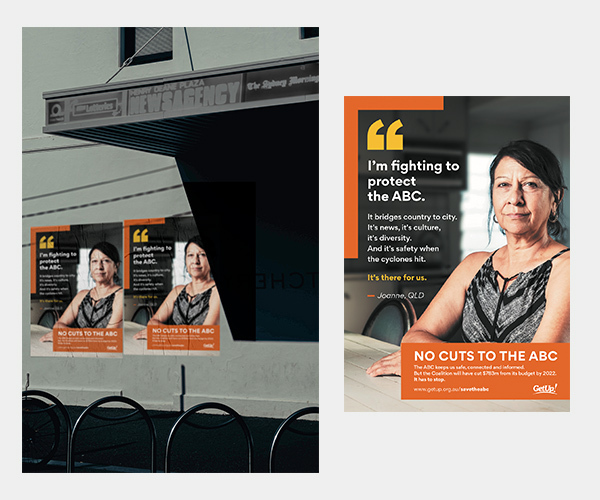 With your help – it didn't stop there.
In key strategic electorates around the country, local GetUp members spoke out about why
they
say "no cuts to the ABC". From the Northern Rivers of NSW to Gippsland in Victoria, Nationals MPs – like Darren Chester, Kevin Hogan and Pat Conaghan – couldn't miss our stories if they tried.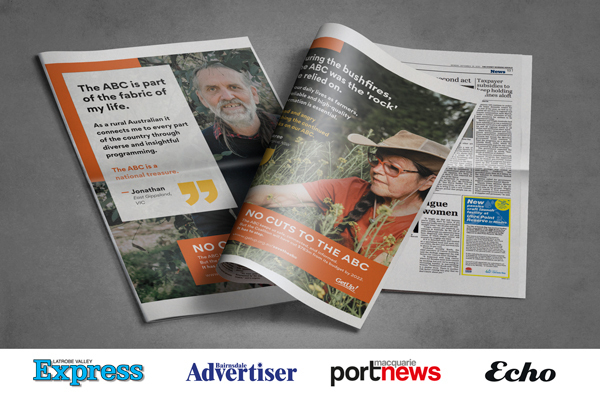 All of this was made possible by nearly
10,000 GetUp members
, who chipped in to counter the anti-ABC attacks from the Murdoch Press and far-right Liberal Party members.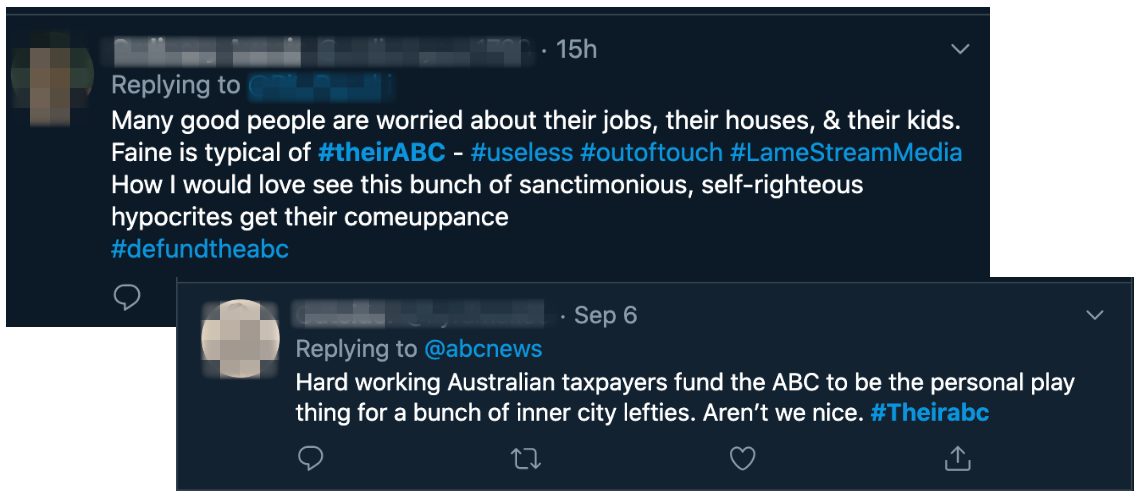 Examples of tweets using the #TheirABC hashtag as encouraged by the Murdoch Press
Together, we showcased stories from everyday people to cut through a coordinated conservative attempt to discredit the ABC ahead of tonight's budget.
All year, GetUp members have kept the plight of the ABC at the forefront of the national conversation. In May, we worked with key experts to reveal the full extent of Government cuts to the ABC - making headlines across the country.
1
GetUp members ensured the ABC was a major election issue in the Eden-Monaro by-election. And thousands of members shared their own stories for a massive pre-budget submission handed to the Government last month.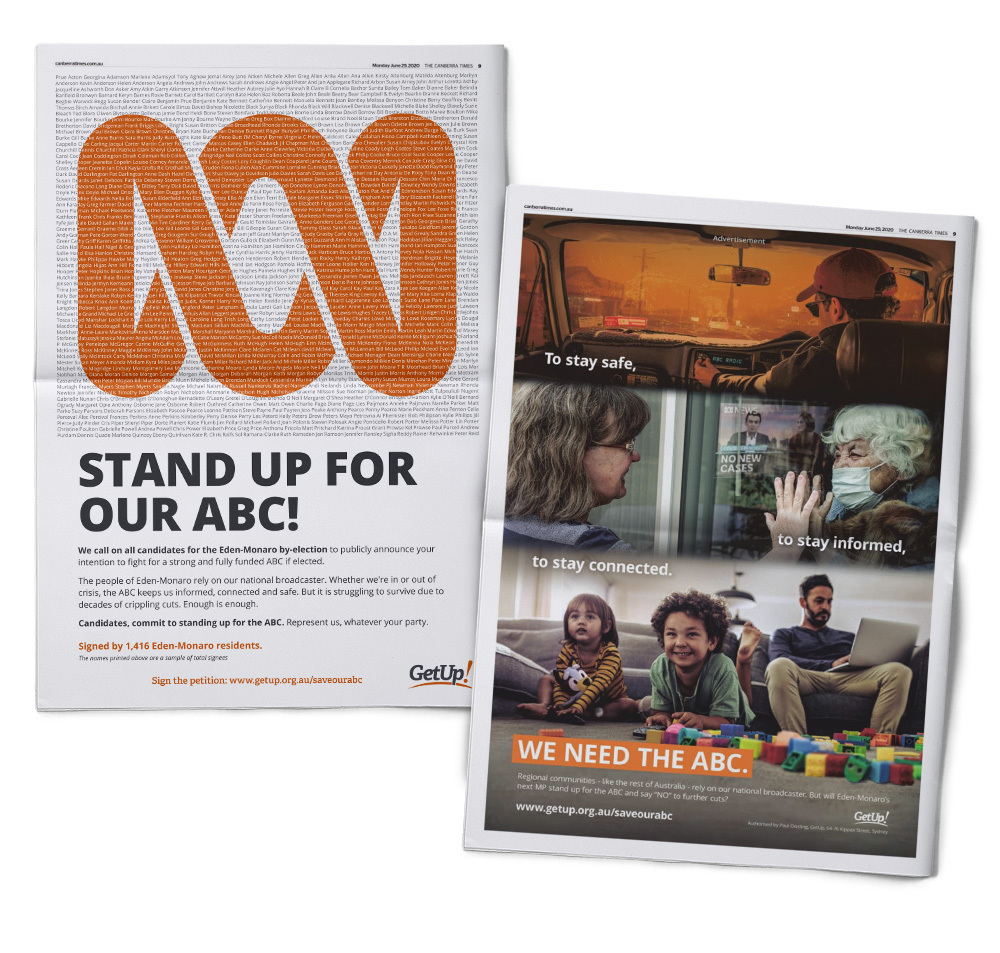 Two full page advertisements funded by GetUp members appeared in The Canberra Times and The Merimbula News Weekly during the Eden-Monaro by-election in July.
Whatever happens tonight in the Federal Budget, we know these anti-ABC forces are not going away anytime soon.
And it's not just the ABC that faces an uncertain future...

A diverse and free press is being eroded in this country.
The closures of regional, local and independent news outlets is devastating for our communities.
2,3,4
Australia's media ownership continues to be one of most concentrated in the world.
5
And with police raiding journalists' homes
6
, whistleblowers facing jail time
7
, and intelligence powers growing stronger
8
, Morrison's Government faces less accountability and less scrutiny.

But there is an antidote.
We know the power of thousands and thousands of everyday people willing to put in the time and energy to build a fair and flourishing democracy.
We know how critical independent, public interest journalism is to our democracy and communities. And a well funded public broadcaster and a diverse media landscape is crucial for amplifying voices across the country on the issues we care about.
The fight to save the ABC and guarantee a free and diverse media continues.
In determination and solidarity,
Renaire, Chandi, Maddie and Tosca for the GetUp team
PS. As another bushfire season approaches, we send our support out to all the ABC staff that will be working around the clock to keep communities informed and safe. All while struggling with a gutted budget.

Together we need to keep demanding a strong, fearless and free media landscape. Stay safe!
References:
[1] e.g. 'ABC loses $783m funding since 2014 when Coalition made its first cuts – report',
The Guardian
, 4 May 2020
[2] 'More than 150 Australian newsrooms shut since January 2019 as Covid-19 deepens media crisis',
The Guardian
, 18 May 2020
[3] 'National newswire AAP turns to crowdfunding after finding itself under early financial pressure',
The Guardian
, 7 September 2020
[4] 'Australian media closures spark fears important local stories will not be told',
ABC>
, 21 May 2020
[5] 'How the Fairfax takeover will further concentrate Australia's media',
The Guardian
, 3 August 2020
[6] 'Anniversary of AFP raids a reminder to reform laws that 'criminalise journalism': union',
Mumbrella
, 4 June 2020
[7] 'Commonwealth dumps 42 charges against ATO whistleblower Richard Boyle but threat of prison looms',
ABC
, 3 July 2020
[8] 'Prosecution of Australian journalists for 'secrecy offences' should be allowed, parliamentary report says',
The Guardian
, 26 August 2020