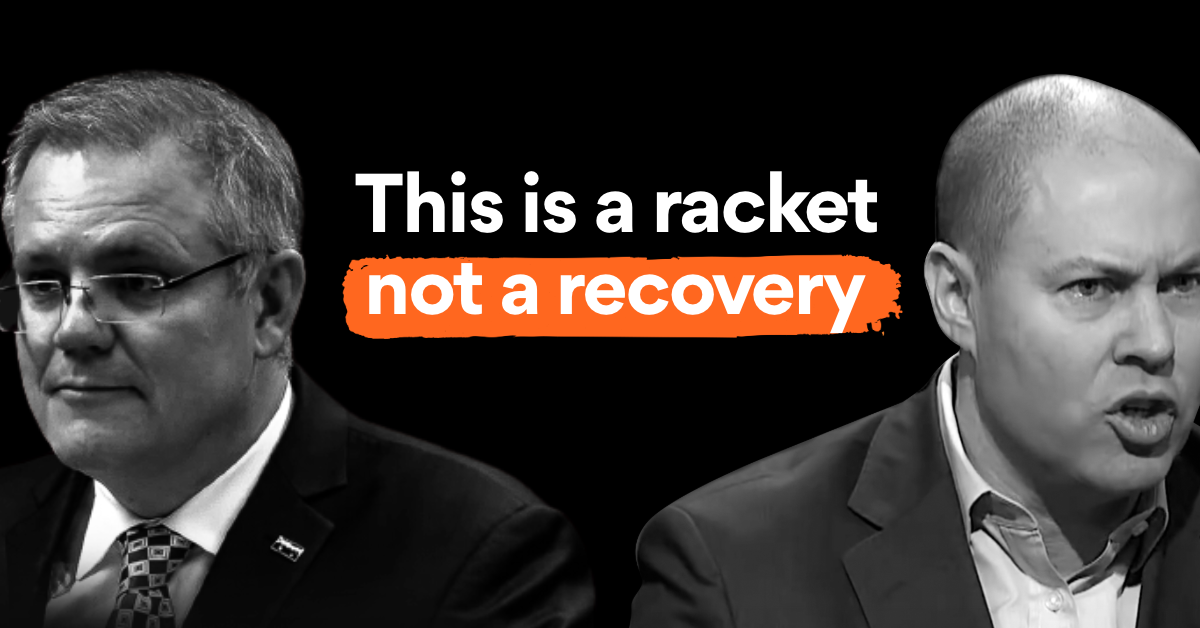 3.2 million people don't have enough work.
1
Almost one in four people in our workforce are looking for more paid hours.
It's the biggest unemployment crisis in a generation.
We were promised this Budget would provide a path out of a terrible recession.
What we got was a plan to

privatise

the recovery effort, leaving far too many people behind.
Tens of billions in corporate welfare were dressed up as jobs initiatives – shovelling money to corporations at the expense of workers.
2
People on income support will have their wages cut by almost a third,
forcing people below the poverty line during a recession.
3
We
can't
let it go unanswered.
The good news?
The answer is right in front of us, backed by a network of diverse organisations.
From think tanks,
4,5,6,7
to unions,
8,9,10
to climate groups,
11,12
and state governments
13,14
– everyone wants a recovery that will guarantee millions of new jobs by investing in child care, aged care, housing, and our clean energy future.
But good policies mean nothing without a movement behind them.
We need a massive outcry to show that people reject the Government's corporate recovery – and want a more ambitious plan for our future.
Sign the petition to demand a real plan that invests in workers and our communities – not massive corporations.
SIGN HERE: WE DEMAND A PEOPLE'S RECOVERY
A crisis like this can shape a nation and a political culture for a generation.
But Federal Treasurer Josh Frydenberg blew it – with a budget that was long on ideology, and short on heart and ambition.
Think about all the ways we could better spend $200 billion
– revitalising our communities, expanding our public services, and directly creating jobs that enrich our communities rather than shareholders.
We could invest in a world where our children and parents thrive,

with free childcare and well-funded aged care. We could support students and educators, rather than saddling them with debts and job losses.
We could become a renewable energy superpower,

employing thousands of people in clean energy and sustainable manufacturing to bring down power prices, and our emissions.
We could build new homes for bushfire survivors, and social housing for people sleeping rough. Creating thousands of construction jobs, while putting a roof over every head.
And we can put public services, back in public hands,

from energy and transport, to our vital employment services. We can end the privatisation and outsourcing that has eroded our social safety net and create thousands of decent public sector jobs.
Instead we got a handful of wage subsidies that
exclude
older workers, even
more
subsidies for dead-end fossil fuels, and
nothing
in permanent support for pensioners, women and temporary migrants –
all hard hit by this pandemic.
It's a disgrace.
And the fight against it begins by demonstrating just how out of touch the government is with the ambition everyday people want and need right now.
SIGN: Demand a real jobs plan – and a fairer, safer, cleaner recovery.
THIS BUDGET DOESN'T SPEAK FOR ME
One of the easiest ways to judge Government policy is to look carefully at who is singing their praises.
This budget has been welcomed with open arms by the Minerals Council, the Business Council and the Banking Lobby.
15,16,17
That's because this budget was a racket, not a recovery plan.
Take just one example: the government announced $31.6 billion in business tax breaks to create just 50,000 jobs.
That's $632,000 per job.
18
Think about the number of nurses or aged care workers we could employ for $632,000. The number of solar panels we could put on peoples' roofs. The support we could provide pensioners and the unemployed.
This budget proved once and for all that what we lack isn't money, but the right priorities and the political courage to pursue them.
But the fight to change that starts today – are you with us?
The public's eyes are firmly fixed on unemployment as the key measure of economic management
19
–
if we can demonstrate just how far this budget falls short, we can push both sides of politics to be far more ambitious.
In defiance,
Ed, Rafi, Charlie, Alix, Oliver, on behalf of the GetUp team
References:
[1] Roy Morgan Unemployment & Under-employment Estimates (2005-2020),
Roy Morgan
, viewed 6 October 2020.
[2] Budget 2020 is 'all about jobs', Treasurer says, but there's a catch,
ABC News
, 7 October 2020
[3] Wrapping reaction to Federal Budget and its implications for health and healthcare,
Croakey
, 6 October 2020.
[4] Coming of Age in a Crisis: Young Workers, COVID-19, and the Youth Guarantee,
Per Capita
, 18 June 2020.
[5] Coming of Age in a Crisis: Young Workers, COVID-19, and the Youth Guarantee,
Per Capita
, 18 June 2020.
[6] Design Principles for Fiscal Policy in a Pandemic,
The Australia Institute
, 20 April 2020.
[7] A Real Deal,
Sydney Policy Lab
, 28 September 2020.
[8] Australian Unions call for 2 million new secure jobs and halving of job insecurity to rebuild economy,
Australian Council of Trade Unions
, 12 May 2020.
[9] Key union pushes for universal income of $740 a week, guaranteed jobs,
The Sydney Morning Herald
, 26 March 2020.
[10] A robot took my job: Why Australians back a jobs guarantee,
Unions NSW
, August 2020.
[11] The Million Jobs Planned,
Beyond Zero Emissions
, 29 June 2020.
[12] Clean Jobs Plan,
The Climate Council
, 21 July 2020.
[13] Working for Victoria,
Victorian Government
, 6 May 2020.
[14] Greens Move on Job Guarantee Passes Parliament,
Tasmanian Greens
, 23 September 2020.
[15] Budget confirms mining is key to recovery, jobs and essential services,
The Minerals Council of Australia
, 6 October 2020.
[16] Budget 2020 charts the road to recovery,
Banking Australia Association
, 6 October 2020.
[17] The right budget at the right time,
Business Council of Australia
, 6 October 2020
[18] Budget 2020 is 'all about jobs', Treasurer says, but there's a catch,
ABC News
, 7 October 2020
[19] National Survey by Essential Media, September 2020