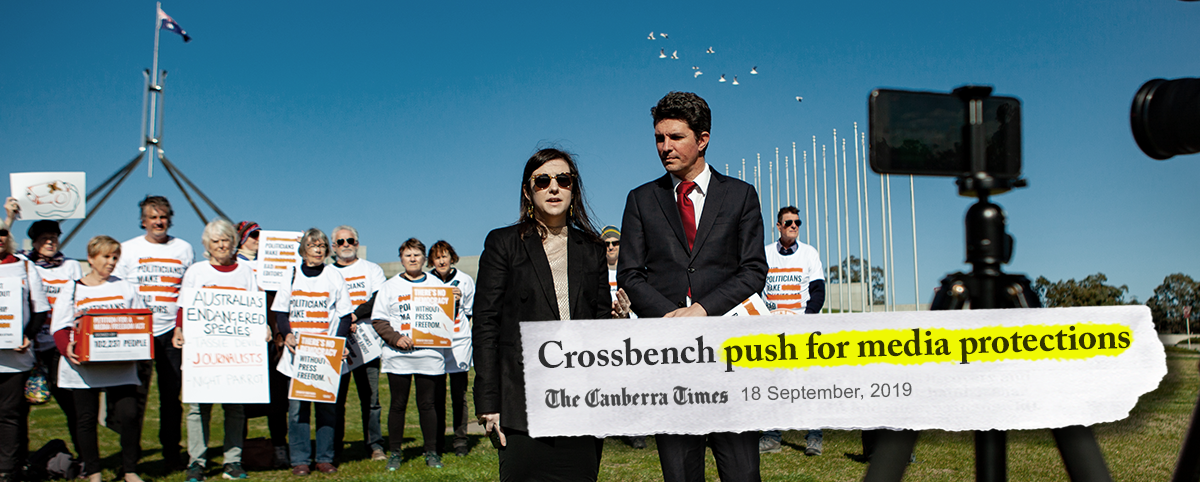 The Morrison Government is desperately scrambling to shut down dissent and avoid accountability, but they cannot stop us.
We've just covered the capital with an unequivocal call for press freedom –
and an exciting invitation next week shows momentum is growing.
And is it any surprise?
The backlash against the AFP's raids of journalists' homes and offices was rare, unifying, and severe. As the Morrison Government made excuses for the obscene overreach, a whopping 75% of Australians believed something was seriously wrong.
And so you acted:
Over 100,000 of us joined the call for a Media Freedom Act – and we took those voices straight to Parliament.
Over 5,000 of you funded a report into the dire state of Australian press freedom, exposing attacks on journalists, whistleblowers, and our ABC.
Almost 2,500 of you made submissions to the Senate Inquiry – farmers, veterans, Liberal voters, and history teachers stood together to call for press freedom.
We covered capital cities in posters, light-projections, chalk stencils, billboards and digital ads to remind politicians of just what was at stake.
And it all came together at an event in the halls of Parliament in late September, where GetUp members joined former Senator Scott Ludlam, Independent MP Andrew Wilkie and Greens Senator Sarah Hanson Young to handover the petition and launch the
BREAKING Report
– generating a media storm.
(You can check it out here!)

The country has united to send a clear message to decision-makers:
we value our right to know and our right to speak up. And no matter how Morrison might try and hide or suppress it, we are ready to fight for it.
Against his wishes, we're cutting through.
Next Wednesday, on October 16th, GetUp National Director Paul Oosting has been invited to deliver a major address to the National Press Club.
(If you aren't in Canberra, you can watch along live on ABC News 24 from 12pm.)
As our movement faces smears from cynical, out-of-touch politicians and a for-profit press desperate to repeat The Government's lines to sell newspapers – we have a chance to correct the record.
The message is simple:
As armed police raid journalists, whistleblowers face appalling prison sentences and the Government stifles the right to protest,
it has never been so important for ordinary people to stand together and take action.
In fact, in such a climate, getting a message out there at all is no mean feat.
But thanks to our power together, we're centre stage.
See you at the Press Club,
Patrick, Sarah and Tosca – for the GetUp team ❤️
P.S. If this is work you're proud of and you have the means,
please think about making a regular contribution to keep this movement going.
$8 a month means we can always keep up the fight. Like Netflix... for justice 😉

---
GetUp is an independent, not-for-profit community campaigning group. We use new technology to empower Australians to have their say on important national issues. We receive no political party or government funding, and every campaign we run is entirely supported by voluntary donations. If you'd like to contribute to help fund GetUp's work, please

donate now!

Please note we've updated our

Privacy Policy. If you do not wish to receive updates to noely@mysunshinecoast.com.au from GetUp, please

unsubscribe.
Our team acknowledges the Traditional Custodians of the land on which we meet and work. We wish to pay respect to Elders - past, present and emerging - and acknowledge the important role all Aboriginal and Torres Strait Islander people continue to play within Australia and the GetUp community.
Authorised by Paul Oosting, GetUp Ltd, Level 14, 338 Pitt Street, Sydney NSW 2000.