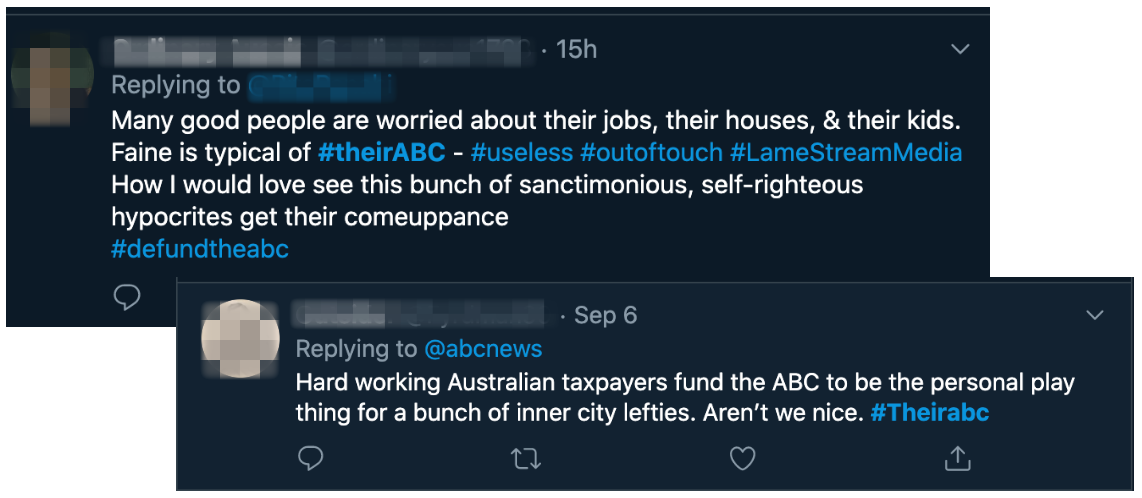 Examples of tweets using the #TheirABC hashtag as encouraged by Murdoch journalist Chris Kenny
The Murdoch Press just launched a vicious anti-ABC campaign on social media.
Their timing – just four weeks out from the Federal Budget – is no coincidence.
The hashtag #TheirABC has already been seized upon by climate deniers and right-wing trolls. Together with the Murdoch Press, they're using it to paint our national broadcaster as elitist and out-of-touch, while calling for it to be defunded, privatised, or sold off for parts.
It's a blatant attempt to lay the groundwork for even more devastating cuts to our ABC on Budget night.
But GetUp members around the country have been preparing for this fight, setting up local petitions and collecting powerful stories of how our communities rely on the ABC.
These stories from everyday people are the single most powerful tool we have to combat this coordinated conservative attempt to discredit the ABC.
But to be truly powerful, these stories need to be heard far and wide. And that's where you come in.
If enough of us chip in, we can buy up billboards, newspaper ads, and posters in the most strategic parts of the country. From Gippsland to inner city Brisbane, from the Northern Rivers of NSW to the Prime Ministers own electorate –
we can make sure key Coalition MPs across the country know

exactly

what the ABC means to their communities, and how hard people will fight to protect it.
Can you chip in $12 to fight the conservative media's spin by putting powerful stories of everyday people who rely on the ABC on the national stage in the lead up to the Federal Budget?
Over the last few months, GetUp members have shared thousands of moving stories about what the ABC means to them.
Members like Colin, who used ABC emergency broadcasts to keep him and his llama farm safe while bushfires threatened his home. Like Tricia or Julie, who live alone and rely on the ABC to stave off isolation and remain connected. Or like rural farmer and veterinarian Kate, who listens to the ABC while driving through the country for work, and who raised her family on ABC Kids.
If enough of us chip in we can tell stories like these with:
Full-page newspaper ads in strategic regional and inner-city electorates telling local stories

that speak directly to communities who rely on the ABC, and to dial up the pressure on their MPs;
Full-page ads in national newspapers calling out Coalition spin

and forefronting the value of the ABC in the lead up to the budget;
Targeted internet content

calling out the lies in the Murdoch Press and cut through Coalition spin; and
Postering in the electorates of Prime Minister Morrison, Communications Minister Fletcher, and other key decision makers,

so they feel the pressure from their constituents.
But we're running out of time to do all of this before Budget night, and it will only be possible with your help.
Can you chip in $12 and help cover the country with the powerful stories of everyday people and how important the ABC is to them? Together, we can make sure Coalition MPs can't escape the truth.
This year, GetUp members have fought tooth and nail to protect our national broadcaster.
From chipping in to fund a groundbreaking report that blew the lid on the impacts of years of cuts.
1

To helping make the ABC a vote-deciding issue in the Eden-Monaro by-election.
2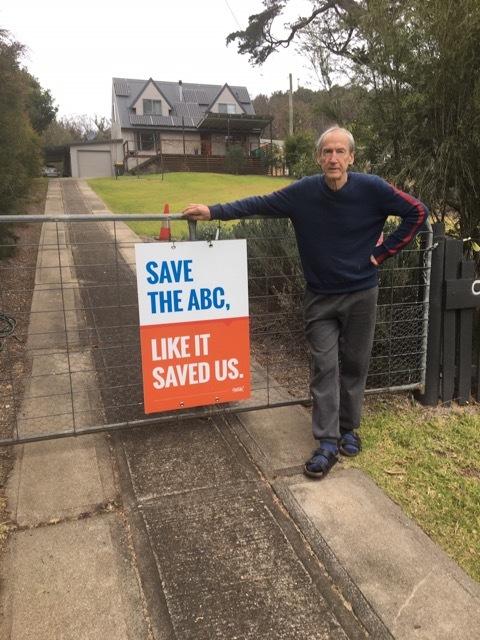 GetUp member Robert Fox, outside his Cobargo home which narrowly survived the 2019/20 bushfires.
And holding our politicians accountable when they attack our national broadcaster for doing its job.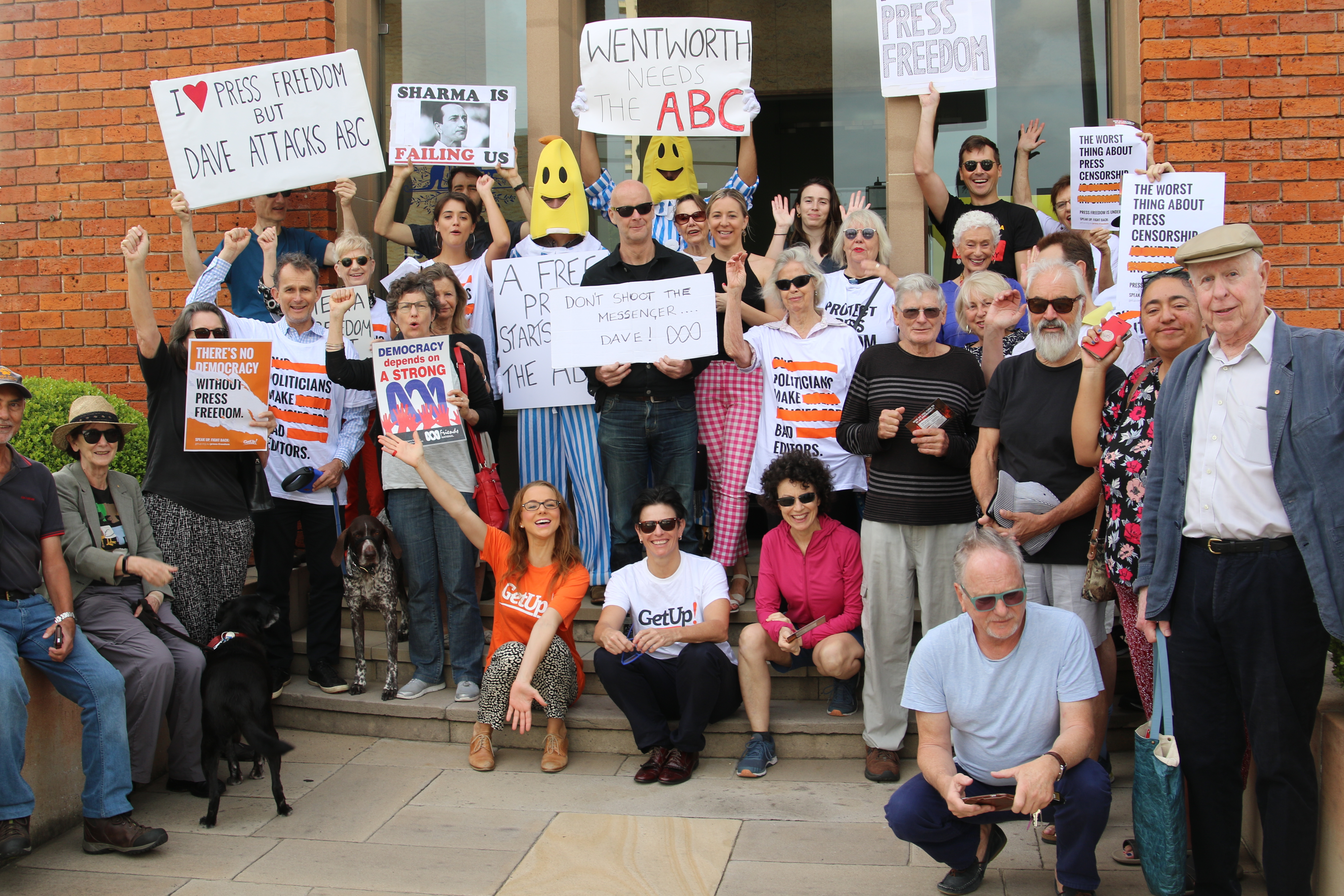 A snap rally at MP Dave Sharma's electorate office in the electorate of Wentworth.
The ABC is as important as ever and the fight to save it from even more cuts as urgent.
Together, we can counter Murdoch Press misinformation and speak to the true value of the ABC to communities around Australia.
Can you chip in $12 to fund a massive advertising campaign ahead of the October 6 Federal Budget platforming the stories and faces of everyday people who rely on the ABC?
In determination,
Renaire and Tosca for the GetUp team
PS - As a result of GetUp's 'It's Our ABC' report, which resulted in hundreds of headlines, Morrison was forced to flatout deny cuts to the ABC even existed, instead of trying to defend the indefensible. We know our movement can change the national narrative on the ABC. And we need to do it again.

Can you chip in so that, like with the report, we can take control of the ABC debate and make any further cuts politically toxic to this Government?
References:
[1]
It's Our ABC: A research report for GetUp! By Per Capita
, Per Capita, May 2020: Per Capita website
[2] 'ABC considered a critical emergency service by Eden-Monaro voters ahead of by-election, a GetUp poll shows',
The Canberra Times
, 30 June 2020