This afternoon
Josh Frydenberg declared victory
for the government because new data shows that unemployment is at 5%.
But it's an incredibly dishonest thing to celebrate.
What "5% unemployment" actually means is
650,000 real people – single parents, old people, young people – are locked out of paid work.
A further 1.1 million desperately want more paid work than they have. Never mind the hundreds of thousands that the government doesn't bother measuring because they've simply given up – discouraged by discrimination, or a lack of jobs.
Bureaucrats from both sides of politics refer to this crisis as a "natural" rate
of unemployment. They tell us this is "just the way things have to be".
But it's a lie.
The future could be
so much
brighter.
Right now, there's a bold idea gathering momentum around the world. It's called
a Federal Job Guarantee.
It could end the misery of unemployment, end insecure work, mobilise people to the benefit of their community and stop greed from further eroding working conditions.
It's a solution that's as big as the unemployment epidemic we face.
But for us to have a chance at driving the major parties to real action on unemployment we need to start smashing their myths and driving a new public understanding of what's possible.
Curious? Unsure? This idea is too big to miss. Click here to find out about a federal job guarantee and share it with your friends.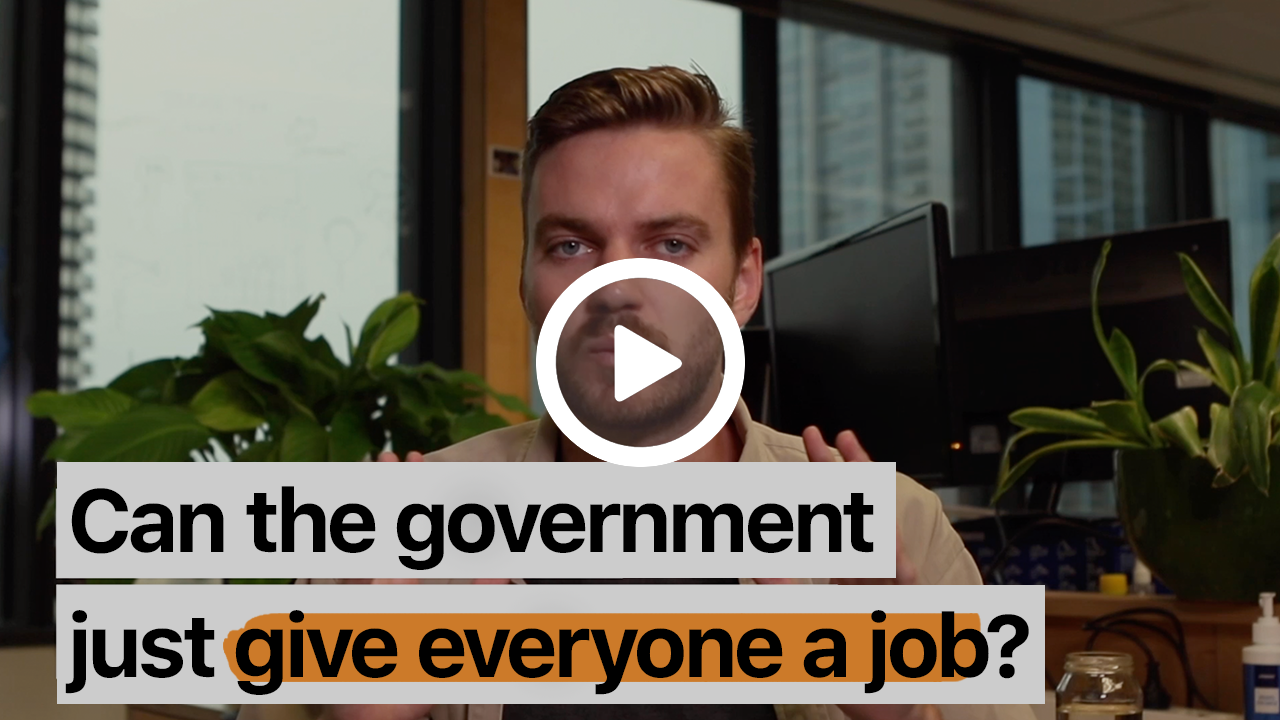 Click here to find out about a Job Guarantee, and how it could work.
A lack of secure work causes poverty, homelessness, mental illness and suicide.
It rips families apart, and tears at the fabric of our communities.
But letting so many people go without work is a political choice.
Throughout much of the 20th century we maintained an unemployment rate closer to 2% through a commitment to full employment, driven by good, public sector jobs.
But since the 70's, the government has walked away from its commitment to universal employment – even as we've built world class systems to provide universal healthcare and education.
Now the tide is finally turning on the greedy, cynical orthodoxy that has failed so many for so long –
but we need your help to spread ideas like these, and paint a picture of a better world.
Click here to find out about a federal job guarantee and share it with the people you care about.
Ideas like this are powerful.
And already, a job guarantee has been picked up by Senator Bernie Sanders and Congresswoman Alexandria Ocasio-Cortez in the US, as well as academics like Bill Mitchell, and politicians like Ged Kearney and Wayne Swan in Australia.
And it's not hard to see why it's popular.
650,000 of us shouldn't be locked out of work because our government lacks imagination.
With moral clarity and political courage we can rebuild failing systems and reshape our future.
When ordinary people share extraordinary ideas, backed up by the brightest minds, the most important research,
and by hope
–
we can change minds, and change the world.
Yours in hope,
Ed, Jai, Patrick and Ezreena for the GetUp team