Scott Morrison is
desperate
to keep you quiet.
Over the weekend, he gave a speech attacking people like us – spouting comments too foul to repeat.
1
Why? Because we're part of a movement that holds his government to account.
Scott Morrison's comments are part of an emerging, dangerous trend:
journalists and whistleblowers threatened with prison sentences.
2
Armed raids from the Federal Police.
3
Laws to allow editorial interference at the ABC.
4
Right now, the fight to protect civil society, our democratic rights, and Press Freedom has never been more important.
That's why today we're stepping up our fight to establish a Media Freedom Act.
In just a few weeks, Parliament will be resuming and GetUp members are planning to deliver our massive petition calling for new laws to protect press freedom.
We've already got an extraordinary 71,000 signatures. But when we deliver it to Prime Minister Morrison's door we need as many people as possible standing with us.
Can you join the 71,000 people who have already added their name in support of a Media Freedom Act? Sign on now!
It's been just days since Morrison launched his attack, and already GetUp members have taken the media by storm.
Check out some of the letters to the editor that have come out so far!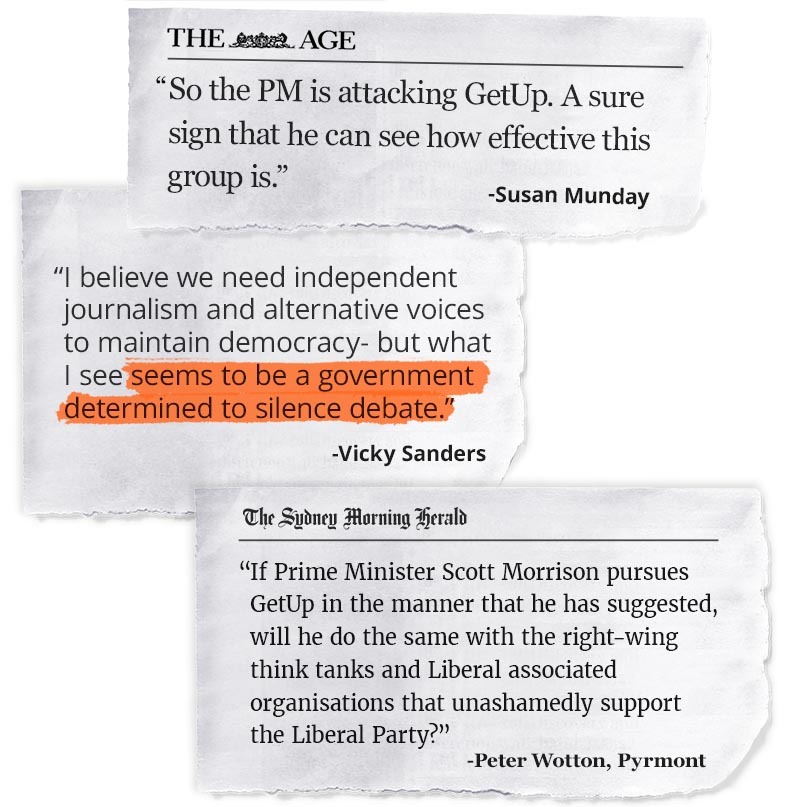 We have momentum on our side. Now, we need to keep the media spotlight trained squarely on the Morrison Government's attempts to silence dissent.
That's why we're stepping up our campaign for a

Media Freedom Act

– demanding new laws that will protect journalists, whistleblowers, and our right to know.
With Parliament resuming in just a few weeks, we have the perfect opportunity to capture the headlines and demonstrate public support for a Media Freedom Act.
Will you join the campaign for increased transparency and protections for Press Freedom by signing the petition today?
When Morrison attacks "GetUp", he doesn't understand he's attacking grandparents, nurses and students. People from all walks of life, all across the country, who want to engage in our democracy.
These are the same people who will suffer as a result of increasing attacks on Press Freedom in this country.
For democracy to function, everyday people and journalists

must

be allowed to speak out.
It's an Orwellian challenge we must rise to meet in order to protect our independent media, our participation in civil society, and our democracy we need to stand together and fight back.
Can you help demonstrate massive public support for a Media Freedom Act by signing the petition now, just in time to deliver it to Parliament?
For our democracy. For our right to know. Sign the petition for a Media Freedom Act now.
In determination,
Ruby, Patrick, Sarah and Tosca, for the GetUp team
References:
1. "GetUp hits back at 'extraordinary attack' by the PM",
The Age
, August 17 2019
2. "Dutton defends penalties for journalists",
SBS News
, June 7, 2019
3. "AFP reportedly armed during media raids",
Sky News
, July 6, 2019
4. "What One Nation's plans for the ABC charter would mean for fair reporting",
The SMH
August 16, 2017