Amici Restaurant Pizzeria Caloundra
$395,000
---
Caloundra, Queensland 4551
$395,000
Cafe/Coffee Shop
Restaurant
---
Amici Restaurant Pizzeria Caloundra
Combine your business with a coastal lifestyle and discover your ideal work/life balance.

Amici Restaurant Pizzeria (a.k.a. Amici Cafe) provides the perfect combination of contemporary dining and soul satisfying Italian cuisine.

With a reputation second to none, professional menu, committed staff, and healthy profits that continue to grow year by year, this licensed restaurant pizzeria is a superb investment and a rare opportunity for the discerning buyer.

Currently offering evening dining 6 days per week and breakfast/lunch dining on Sundays, the tables are generally filled up fast, and during busy holiday periods the restaurant is often serving to its limits.

Locals can enjoy Amici's dishes any night of the week in the comfort of their own home with a delivery service right to their door (Delivery Car is also included in sale), or a takeaway option is available for those who may want to enjoy a meal right on the waterfront less than a few minutes walk away.

The clean and inviting premises is well-situated, presenting an ocean view and is located only a short stroll to Bulcock Beach and Caloundra Town Centre. Top quality fittings have been installed and no expense has been spared with maintaining the equipment.

Rated #6 out of over 1000 restaurants in the Sunshine Coast and #1 in Caloundra on Trip Advisor, the glowing reviews through online review platforms show customers truly appreciate what Amici Café has to offer.

The staff are skilfully trained to deliver exceptional customer service, and every aspect is systemised to be able to run autonomously. Excellent training is offered for the new owner to take over with ease.

Serious buyers are encouraged to contact us at T D Mango Business Brokers today.
Features
Business Snapshot
Price: $395,000
Trial: no
This listing last updated:
13th June 2017
Ken Dyce

1300 711 514
0439 106 741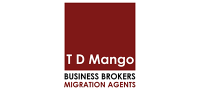 T D MANGO Business Brokers